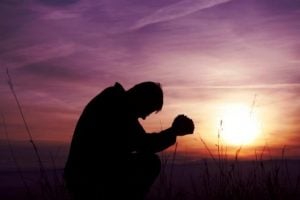 So many people ask the question of What is faith? Everyone has faith in something. Faith can be a lot of different things. Faith is believing in something that you can't see. Faith can also be the belief that you or someone you love will accomplish something in life. Faith is also known as belief in God.
What is the object of your faith though? Is the object of your faith you believing in yourself or you believing in God? If the object of your faith doesn't bring you back to the basic of knowing Jesus Christ as your Lord and Savior, then where does your faith lie? It is always ok to have confidence and belief in yourself but it is even more important to have faith in God and belief in God. If the object of your faith isn't directed towards God, then what or who do you have faith in? So often, we get focused on ourselves in life and we forget to focus on our relationship with Him and spend time with Him.
It's time we reevaluate our relationships with God and go deeper into having a personal relationship with Him. After all, He longs for a relationship with us.  It's time to refocus our faith in Christ boldly. Just as Christ boldly proclaimed His love for us.
You may ask how you can refocus your faith. There are a lot of ways to do that. You can witness to others about the love of Christ. You can offer your knowledge about Christ in Bible studies and stand courageous for your faith when others turn themselves away from the faith. You can pray for and with someone when they ask you to, or you can offer up a prayer with them to help them feel better. You can pray by yourself, silently or out loud. You can join a prayer group at your church or school.
If you ever feel like you're alone in fighting for your faith, remember you are never alone. It can be a very hard fight to stand up for your faith. With so many temptations every day, it is a wonder not to mention a miracle, that we stand against the temptations. But the good news is that God is always with us even during our trials and temptations. God is proud of you when you stand up for Him and in His name to proclaim all the good things He has done.
It can be a very hard concept to understand how to refocus your attention on your faith. But take heart, you are never alone. God sees your heart and knows you better than anyone. Now you may be scared and ask: "well if He knows me that well, then He also knows that I am a sinner and that I have been wavering from my faith. How can I possibly come to Him in prayer and ask for His help to refocus and guide my faith again?" The good news is that you are never too far away from God that you can't come back. God has never said to anyone that they can't come back to Him. God has also never said that you can't ask for His help in strengthening yourself through Him. That's the awesome thing about God. He welcomes anybody back no matter what they may have done, as long as they ask for forgiveness, and He welcomes anyone to be His son and daughter with open arms.
Ask God to help you shed light on what ways you need to grow in your faith. Whether it is through reading the Bible every day, praying every day, reaching out to be there for those who need a helping hand, or just being kinder to people around the office. Ask Him to help you turn back towards Him and to strengthen that desire within you to burn for Him.
You might ask how can you worship someone that you don't see? Worshiping a God that you can't see is tough for anybody. But you will also learn to feel God's presence in your life. When you go to worship at church or at a concert, God is in your midst. Whether you feel Him there or not, He is in His house. God can reveal Himself to you in ways you never thought possible. Ask Him to reveal Himself to you and to show you how to follow Him in your life.
You might even ask how can you focus your faith on one and only one thing or in one person? If we have faith in people, that is a wonderful thing. We not only help them feel better, but they then tend to believe in themselves more as well. God allows us to do that for so many people. Use that gift wisely.  If we have confidence in ourselves, that can take us to places that we have only dreamed of. But if you aren't sure how to get faith or what you have faith in, it can be hard to figure out how to put your faith in anything, nonetheless a God that you can't see. You can always go to God for anything that you need. He will sustain all of your needs.  God is always around you no matter where you are or what you're doing.
Ask yourself: what is the center of your faith? As a Christian, the answer for you should always be God. God should always be the center and object of our faith, but at times, it can be hard to always focus on Him day in and day out. So often we forget how to put our entire attention on God. All we have to do is pray, read the Bible and go to church weekly, and get to know Him as our personal Lord and Savior. The most important thing we can do is put God as our top priority in life by spending as much time with Him as we can. He wants to be your Father. Find the time to spend with Him in order to strengthen and retain and reclaim your faith.