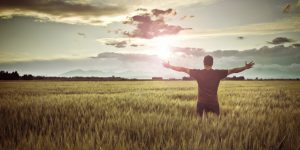 There is no one that loves you more than God does. Not your family, friends or significant other. God is the only one who truly knows your heart. He knows what you are thinking before you even think it. He knows the desires of your heart before you even speak them. He knows who belongs in your life and who doesn't. He knows what will happen every second, every hour and every minute of every day. It may seem scary to some that He knows what will happen before you do but you don't have to be scared. It is awesome to know that God loves you and knows exactly what will happen at the exact right moments in your life before you do. God is the only one who knows your life, your habits and everything about you from the inside out. He knows all of you because He created you. God made you in His image and for His purpose. No one can ever love you the way He does. The love of God knows no bounds.
The love of God and the love He has for you can be overwhelming. Think about it. You are loved by the King of Kings, the maker of Heaven and Earth. Not many people in your life, except maybe your family members and a few close friends would be willing to die for you. Jesus paid that ultimate sacrifice because of His love for you. He endured all the ridicule and had all of your sins put upon Himself on the cross. How could you not be overwhelmed when you realize the kind of love that He has for you and when you realize what He has done for you?
He loves you so much that He sent His son to die for you on the Cross. Jesus willingly gave up himself for those He loved. He loves you in ways that you can't even imagine in biblical times, Jesus healed the sick, deaf and blind, and raised the dead. He gave faith to the faithless, hope to the hopeless and rest for the weary, and love to the broken heart. He even saved the thief that was dying on the Cross next to Him. Not everyone knows the love of the father on a deep personal level. But all you have to do is ask Him to enter your life, heart soul and mind and to empower you in your faith walk.
He gives you the power to forgive people that have hurt you, and the power to make the right choices in your life. He offers grace, forgiveness, mercy and healing to you whenever you ask for it. If He didn't love you, He wouldn't have sent His son to die for you on the cross. God loves everyone enough and wants them to come to Him in prayer, with peace instead of fear. You don't have to be afraid of God or afraid of fear. God didn't give us a spirit of timidity or if fear but rather a spirit of peace. 2 Timothy 1:7 says: "For the Spirit of God gave us does not make us timid, but gives us power, love and self-discipline."
Other verses about God's love include:
Deuteronomy 7:9 says, "Know therefore that the LORD your God is God, the faithful God who keeps covenant and steadfast love with those who love him and keep his commandments, to a thousand generations." This verse says that God is faithful to those who love Him and keep the commandments He gives you.
Psalm 86:15 says, "But you, Lord, are a compassionate and gracious God, slow to anger, abounding in love and faithfulness." You don't have to fear God because He abounds in His steadfast love.
Zephaniah 3:17 says, "The LORD your God is with you, the Mighty Warrior who saves. He will take great delight in you; in his love, he will no longer rebuke you, but will rejoice over you with singing." He wants to get to know you and will rejoice over you in song.
Romans 5:2-8 says, "through whom we have gained access by faith into this grace in which we now stand. And we boast in the hope of the glory of God. 3 Not only so, but we also glory in our sufferings, because we know that suffering produces perseverance; 4 perseverance, character; and character, hope. 5 And hope does not put us to shame, because God's love has been poured out into our hearts through the Holy Spirit, who has been given to us. 6 You see, at just the right time, when we were still powerless, Christ died for the ungodly. 7 Very rarely will anyone die for a righteous person, though for a good person someone might possibly dare to die. 8 But God demonstrates his own love for us in this: While we were still sinners, Christ died for us." While you were and are sinning, Christ gave up His life for you.
John 3:16 says, "For God so loved the world, that he gave His one and only Son. That whoever believes in Him shall not perish but have eternal life. "
The last verse mentioned is one of the most well-known verses in the Bible.
God loves you with more emotions, passion and feeling than anyone else ever could. Never forget what He has done for you or how much He loves you. His love is truly endless and overwhelming.