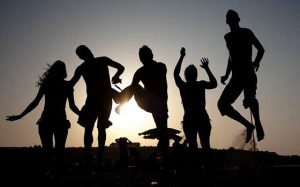 Always being happy and having that spring in your step can be a hard concept to master. It is important to try to live life to the fullest and try not to take anything for granted. If people always see you with an angry look on your face, they won't want to be around you. But, if they see you with a spring in your step on most days, they probably will endear themselves to you. Living life as if every day is a good day, is important.  It not only affects your life in physical ways, but it also affects your life and the other's around you in their physical, mental and even spiritual and emotional ways they view life.
You never know when God is going to call you home to Heaven on your last day on Earth. That can be an awesome thought for us, and it can also be a scary and overwhelming thought for someone who may not know God personally. The thought that you have eternal life waiting for you in Heaven, just because God freely gives it to you if you ask Him for it, is an amazing gift that you shouldn't ever take for granted. This life may be full of problems, such as illnesses, cancer, financial problems and just about everything in between. No one wants to face those problems, but a lot of them are set in place to see how you react to them. You can either run away from them or take them head on and learn from them. Not to mention, roll with the punches.
My family had recently lost a family member who was a true giver in his life on Earth. It warms my heart to know that he is sitting with Jesus and God as well as the fact that he is no longer suffering. All of that pain is gone from him completely. It brings a lot of people hardship when someone they love dies, because the reality often hits them, that the person is no longer there with them physically and they have only the memories of the person they love to cling to. But, we as Christians, have that hope and security, not to mention the often-unexplainable sense of peace of seeing our loved ones again when we get to Heaven.
We can even rejoice that they are in Heaven and especially with the fact that we will be reunited with them when the time comes for us to go home. The death of a loved one tells us and teaches many of us to never take life for granted. Even though it is very hard at times to move on with our lives without them here physically on Earth, we can always remember the times we had with them. We can spread the joy of their legacy, long after they have passed. We can continue to live out the legacy of their love within ourselves and in our words and actions.
Get out there in life with the people you cherish the most, love what you do at your job, make new friends. Take up a new hobby such as writing, sewing, swimming, even dirt biking, or cross country skiing. Whatever God puts on your heart, follow it with a passion. Follow His lead wherever He may take you.   Enjoy life, no matter what you're doing or who you are hanging out with, because you never know when something could change.
Always tell people in your life that you love them, no matter how you may feel in the moment. Always try to forgive peoples mistakes, whether big or small. That's what Gods has called us to do, and if He can forgive us, how can we not, forgive anyone else.
Remember that life can change on a dime. It is a harsh reality at all times. If you aren't careful it can lead you to freak out over the possibility and even more so, the inevitability, of something happening to someone you care about. But, God doesn't want us to live in the spirit of fear.  Some other Bible verses about living life to the fullest include:
2 Timothy 1: 7 says, "For the Spirit God gave us does not make us timid, but gives us power, love and self-discipline."
Psalm 37:4 says, "Take delight in the LORD, and he will give you the desires of your heart."
Proverbs 27: 1 says, "Do not boast about tomorrow, for you do not know what a day may bring."
Psalm 90:12 says, "Teach us to number our days, that we may gain a heart of wisdom."
Psalm 16:11 is one of my favorite verses. It says, "You make known to me the path of life; you will fill me with joy in your presence, with eternal pleasures at your right hand."
James 4:14 says, "Why, you do not even know what will happen tomorrow. What is your life? You are a mist that appears for a little while and then vanishes." This verse clearly and to the point stares us down as if to always remind us, that we are not of this world, and our lives here on Earth, although painful and fun at the same time, are a vapor compared to the joys that can and will await us in Heaven, when He calls us home.
Always try to be able to enjoy life, no matter the circumstances surrounding it. God is constantly at work through everything and anything you do in life. Why not live for Him, through His example and enjoy life? Live as if it's all you have to give back to Him. We never know when He will call us home.