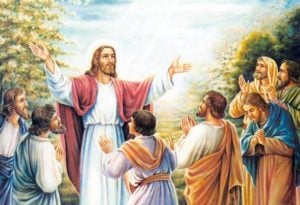 Sometimes we are deaf to what God has to tell us. Some days we don't want to hear about God. There are days where people talking about God just annoy us. Or we annoy people talking about God. Some days there are days when we don't want to hear it. But if we feel like God is trying to get our attention, whether through the work of someone in our lives, through a message at church, through song or scripture we should listen and listen intently. We shouldn't take the things that God tells us for granted. If you feel like God is trying to get your attention through certain circumstances in your life, you can tune yourself in to what He says. Who knows, He may be trying to get your attention through a relationship in your life, through scripture, through dreams and or visions, through the circumstances that you may going through in your life.
He lets struggles happen in our lives so we learn from them and so we learn to trust Him again, if and when we choose to let Him have control over our lives. I don' know about you, but I find unexplainable peace when I finally pray and give things up that are bothering me up to the Lord. It's literally an unexplainable peace that no one really can explain. All I know is that peace like that can only come from God. We need to only be still and listen to Him and listen for Him. Some days we may not feel like listening to Him or what He has to say, but He always has different, sometimes subtly, other time abrupt ways of getting our attention. Some days He may be trying to get our attention, just by letting Satan kind of mess with you, just so you can know what a special privilege it is to turn to God whenever you need Him. The thing is, that, we need him at all times in our lives, even when He gives us free will to go our own ways. Even when we think we don't need Him in our lives, there is always proof that we do need God in our lives.
There are many instances in His word where He is called the Good Shepard. He says in His word, "My sheep hear my voice and they listen to me."
John 10: 27 says, "My sheep listen to my voice; I know them, and they follow me."
Psalm 100: 3 says, "Know that the Lord is God.  It is he who made us, and we are his[a];  we are his people, the sheep of his pasture."
John 10: 11 says, " I am the good shepherd: the good shepherd giveth his life for the sheep."
Isaiah 53:6 – "All we like sheep have gone astray; we have turned every one to his own way; and the LORD hath laid on him the iniquity of us all."
Matthew 10:16 – "Behold, I send you forth as sheep in the midst of wolves: be ye therefore wise as serpents, and harmless as doves."
Psalm 23: 1 The Lord is my shepherd, I lack nothing.2. He makes me lie down in green pastures, he leads me beside quiet waters,3  he refreshes my soul. He guides me along the right paths for his name's sake.4 Even though I walk through the darkest valley,[a]I will fear no evil, for you are with me; your rod and your staff, they comfort me.5 You prepare a table before me in the presence of my enemies. You anoint my head with oil; my cup overflows. 6 Surely your goodness and love will follow me all the days of my life, and I will dwell in the house of the Lord forever."
Psalm 16: 11 "You make known to me the path of life; you will fill me with joy in your presence, with eternal pleasures at your right hand."
All we have to do is be willing to listen to the things He tells us. Even if it may not be what we want to hear, we know God will only let us go through what we can handle and nothing more than that. Even if it isn't what we want to hear at the time, we know that He has a plan for each of our struggles to help us learn the lessons we need to in life and it will only strengthen our relationship with Him. He also has a plan for each of our lives to bring us closer to Him, no matter what we may be experiencing. The only one we should fully be focused on listening to is God. While it's important to listen to other authority figures such as teachers, bosses and even our parents, God is the one who has the authority over all of them.