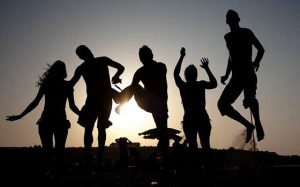 As summer is starting, many of us can't wait to experience the joy of being outside in the beautiful weather. We are finally able to breathe in the fresh air and enjoy cookouts with our families. We are able to enjoy the days that God has given us, even more it seems, when the weather is beautiful. The good news is that we don't ever have to wait until the summer, or when the weather turns nice to enjoy our lives. We can enjoy life no matter what we are experiencing. It just depends on our attitude about life.
It isn't always easy to enjoy our lives every single day. We get so caught up in everything we must do, whether it is work, school, assignments, as well as taking care of ourselves and our families. All of it can be very overwhelming at times. However, we can be thankful that we have a job that helps pay the bills, a family that loves us, and an education that helps prepare us for the future.
Some days, life can bring us down and Satan can have a firm hold on us making us think just how bad we have it, when things don't go the way we want them to. If things don't go our way, we often start to complain and vent. It may help you feel better in the moment, but it can only lead to more negativity throughout your day. Our attitudes play a big part in how we react to hard days. We can sit back and complain about how things are going wrong, or we can look to God, and pray about the things we feel. We often find the ultimate peace that He alone can bring us, after we lift things up to Him in prayer. He didn't give us the ultimate connection to Himself, 24/7 for no reason. We can use prayer as a go to weapon against negative thoughts. He wants us to come to Him no matter the time of day or night, no matter how we feel.
There are many instances in the Bible that tell us that God wants us to enjoy our lives. Mathew 11:28-30 says, "Come to me, all you who are weary and burdened, and I will give you rest. Take my yoke upon you and learn from me, for I am gentle and humble in heart, and you will find rest for your souls. 30 For my yoke is easy and my burden is light." John 10:10 says, "The thief comes only to steal and kill and destroy; I have come that they may have life, and have it to the full."
The book of Ecclesiastes gives us another look into the way God wants us to live our lives. Ecclesiastes 5:19 says, "15 So I commend the enjoyment of life, because there is nothing better for a person under the sun than to eat and drink and be glad. Then joy will accompany them in their toil all the days of the life God has given them under the sun." Ecclesiastes 6:9 says "Enjoy what you have rather than desiring what you don't have. Just dreaming about nice things is meaningless—like chasing the wind." (NLT)
God's will is that we enjoy life and make the most of it. Not just when the weather is nice. He wants us to look for new and exciting ways to experience life. Some of the exciting ways He has helped me enjoy my life is by reading new verses in the Bible that I hadn't read before. Another way He allows me to enjoy my life is through singing. It is a way to relieve stress and a way to improve my ability. He has also given me a love for photography and writing. I want to use all those talents to the best of my ability and learn how to enjoy life, through using those gifts that He has given me.
Ecclesiastes 2:24-25 says, "A person can do nothing better than to eat and drink and find satisfaction in their own toil. This too, I see, is from the hand of God, 25 for without him, who can eat or find enjoyment?"
Everything we have is a blessing from God. Our attitudes affect how we see the blessings in life. Our attitudes can be tuned in to the goodness He gives us, or our attitudes can block out the goodness He gives us. Being happy doesn't have to be a sometime thing. It can be an all-time thing, especially with God at our side.