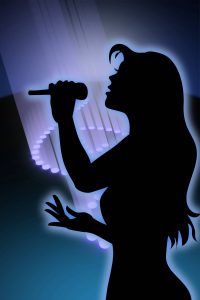 One of my favorite things about life is to be able to sing. God gave me a talent and I love to use it to sing praises to Him. I have been a singer since I was little. I was always singing along to songs and making up my own songs.
I am on the praise team at my church. We lead worship every weekend. Some nights I may not feel like leading worship but as soon as I start to sing, that feeling is lifted from me. There is nothing better than worshiping God in song.
Some verses about worshipping God in song include:
Psalm 33:1-3 "Sing joyfully to the Lord, you righteous; it is fitting for the upright to praise him. 2 Praise the Lord with the harp, make music to him on the ten-stringed lyre. 3 Sing to him a new song; play skillfully, and shout for joy."
Psalm 96:1-2 "Sing to the Lord a new song; sing to the Lord, all the earth. 2 Sing to the Lord, praise his name; proclaim his salvation day after day."
Psalm 5:11: But let all who take refuge in you be glad, let them ever sing for joy. Spread your protection over them, that those who love your name may rejoice in you."
Psalm 9:1-2 1 "I will give thanks to you, Lord, with all my heart; I will tell of all your wonderful deeds.2 I will be glad and rejoice in you; I will sing the praises of your name, O Most High."
These verses point to always singing and praising God. We were made to sing His praises night and day without ceasing. Not many of us do that though. There are also other verses in the Bible, that talk about angels praising God in Heaven.
Job 38:7 "When the morning stars sang together And all the sons of God shouted for joy?"
Luke 2:13-14 "And suddenly there appeared with the angel a multitude of the heavenly host praising God and saying 14 "Glory to God in the highest heaven, and on earth peace to those on whom his favor rests." This is one of the most well-known Bible verses ever, because it's about the birth of the Savior.
There are also verses that talk about praising God through playing musical instruments. Whether the instrument is piano, tuba or trombone, a flute, or a harp and lyre as the following verse suggests, He is glad when we make music in any way to glorify His name. Psalm 81:1-2 "Sing for joy to God our strength; shout aloud to the God of Jacob! 2 Begin the music, strike the timbrel, play the melodious harp and lyre."
He loves to hear people sing praises to Him, no matter our age, race, ethnicity or the ability for you to carry a tune. It doesn't matter to Him whether you can sing well, on key or in tune or are way off key. He looks at how much our hearts are in each lyric and phrase we sing. He looks at how much we raise our voices with praise filled hearts to Him.
It doesn't matter if you're in church or not either. You can praise God in the street with just your voice or with any instrument you choose. You can also praise God in the car on your way to or from work.
You can turn your music up and have a really fun time doing duets with people in your family with artists such as Third Day and MercyMe and Casting Crowns. I've had awesome memories with my dad and boyfriend singing duets of "Praise You in This Storm" and "Your Love Oh Lord" and "Thief" by Third Day. There is nothing like jamming to any of MercyMe's classics such as "Here With Me" either.
You can sing when you are home and need to get stress off your shoulders. God doesn't care who is watching or who judges you while you are having a good time praising Him.
A song called "Testify to Love" by the group Avalon gave my mom and I, a really fun chance to dance and sing after a hard night. We turned on the cd and we blasted the song. We had a great time dancing in our kitchen letting go of the stress of the night before. That's what singing praises to Him can feel like. It can be up lifting for your soul, mind and body. It can take you to another place and make you feel that for a few minutes life isn't as hectic.
I instantly feel connected to Him when I start singing songs about Him or to Him, whether I'm in church or not. I love to sing to let go of stress. Many of those times I feel the connection between God and I right away. I can literally feel His presence in different ways. Many times when I'm in church, singing on the praise team, I feel His presence when the light shines into the church.  Worshiping God in song is an awesome way to get to know Him better and to thank Him for all He has done in our lives.
Never be afraid to praise God by singing, no matter where you may be or what you be doing, or what you are going through. He loves to hear His children sing praises to Him.