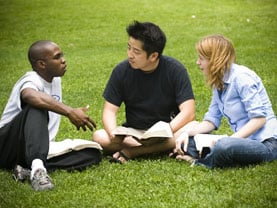 We need revival. The entire nation needs a renewal and revival. The only way that is going to happen is if we, as Christian's start to exemplify the kingdom of God in all of our affairs. We should try to stop with the 10% Christianity of going to church on Sunday and that is it. We need more Christians to start stepping out in faith and boldness and quit being fearful. 2 Timothy 1:7 says, "For the Spirit of God gave us does not make us timid, but gives us power, love and self-discipline." We should come into the full realization of the power we carry. We carry the power of God within us. We carry God's power, His truth and His love within all of us. They are meant to be spread around the world, with everyone. When we come into the full realization of the power Christ allows us to have, we can begin to allow Him to work through us. He walks alongside us daily. Through all of our struggles and hard times, whether they are financial or physical, God is allowing new revivals and new aspects to be seen by us and by other people.
God may be allowing a revival to take place in your church. He may allow a revival of the spirit within us each day. He may also help your family to experience a revival through feeling His peace even when there are hard times.
The power that God displays is astronomical. Knowing God and what He can do is such an amazing honor and privilege. Look at how the disciples were able to heal people and bring people back from the dead because the Holy Spirit rested on them in the form of tongues of fire. Acts 2:3 says, 3″They saw what seemed to be tongues of fire that separated and came to rest on each of them." The disciples were given that power to speak in different languages and were led by the Holy Spirit to share the Gospel, by God Himself.
If we allow ourselves to be used for God's purpose, imagine how much better the world would be. When we believe that God is at work within us and around us, we can be a light to God's truth for everyone.
That is how we will overcome all problems such as addiction, anxiety, fear, through our faith. God will allow us to start start to see renewal in our families, jobs, government, relationships, and the like. God can work through all of these situations to His ultimate glory.
It is also how we come to know God in a more personal way. If we believe in His power, and know that He is, can and will work in every aspect of our lives, we are allowing His great plans to take place and allowing His will to be fulfilled. We can give Him complete control over our lives through our finances, spiritually, mentally, emotionally, and physically. He can heal diseases in our household, and cure us of our own selfish desires. He can start the new feeling within us, of wanting to live for and with Him in our lives, day in and day out. When we start to live for God, we realize that He gives us a peace that we can not understand, so we know it can only come from Him.
I think people as Christians are even afraid to realize the power we have with God working in us and around us daily. If we allow Him to walk with us and work in us and through us, imagine what we could accomplish. We can become the nation that He wanted and wants us to be. Satan, unfortunately, is prowling around like a Lion, waiting for someone to devour and is always able to make us believe his lies. He can make us believe that this nation doesn't even need nor deserves a Christ-like revival. But the exact opposite is true. We not only need a Christ-like revival as a nation, to come back to God, but we need Godly revivals every day in our own personal lives as well.
Satan can make us believe that we are not worth of bringing people to Christ. Again, that is not true. If we weren't supposed to lead people to Him, how would anyone know about Him? It is our God-given responsibility, not to mention our calling in life to help lead others to Christ. We are also here to help people return to Christ. We can even renew ourselves through finding Him anew every day through any and every circumstance.
What a blessing it is to know that we have the power of God constantly working on us, within us, and beside us. What an honor to know that He wants to renew our lives.
What a great thing to know that He is causing revivals throughout our world, even ones we aren't aware of yet. If you know God is telling you to renew yourself and start a revival for His kingdom, don't be afraid to follow God's calling and go where He is telling you to go. He will guide you every step of the way. We can bring people to God, one person at a time. Everything we do is for His glory.