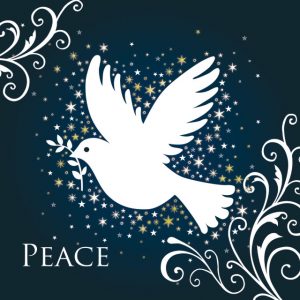 Letting go of fear is a hard aspect to grasp. If you struggle with your fears, you are not alone. Everyone struggles with fear at one time or another. Everyone struggles to find peace through their fears too.  I've struggled with the fear of failure most of my life.  Through those many fears, God has proven His power to me. He allows me to learn how to make myself better through my mistakes.
God has placed many important people in my life that help me believe that I'm good enough.
My father has been the epitome of strength, Godly values and faith in our household. He always has a way to bring me back to faith. He has always believed in me. My parents always make sure that faith is the most important thing in life. Having faith helps me through my fears.
Another person that has helped me believe in myself is my boyfriend. He is always there to listen to me and to tell me that everything will be ok. I'll never forget him bringing me back to faith one day, telling me that Jesus went through a lot of the same fears I go through.
 Do you think Jesus didn't get nervous in His life? He was constantly ridiculed. The Pharisees didn't believe what He said. On Psalm Sunday people shouted, "hosanna to the son of David". Less than five days later, He was handed over to the chief priest by the Roman soldiers in the garden of Gethsemane.
He sweat blood in the garden of Gethsemane, praying that God would take the cup of sorrow away from Him, if it was His father's will. He was probably just as scared as any of us are when hardships come our way in life. But He trusted God's plan and we should too. God will never give you anything you can't handle. If He brings you to it, He will bring you through it.
Trusting our future to an all-knowing, omnipresent God, can bring us much needed peace. The fact that He already ordained each obstacle in our lives, not to mention each miracle, can be an overwhelming thought. It is a good thought, though, to know that we are not of this world, we are His!
He knows everything that will happen. If He didn't, then why would He always help us through every situation? When times are tough, you may even hear Him talking to you through prayer telling you to rest peacefully in His arms. He can and will guide you through all of your fears.
Letting go of the things you fear can be a real challenge. But, if you don't let go of those fears that you've been holding on to for so long, they can only cause more pain and even eventually destroy your mental state. Fear can cause anxiety, panic attacks, and many other health problems such as insomnia.
Praying about whatever you're afraid of and asking Him to help you overcome the fears always helps. Pray that He helps you discern which fears are rational and which fears might be completely irrational in your life.
Letting go and letting God have control of all of our fears and obstacles is an easier option than some people might think. Some people may think that keeping control of what they're afraid of, and dwelling on their fears will make things easier. The exact opposite is true. Holding onto the things we fear can make us sick emotionally, physically and even mentally.
Learning to accept what is, and not dwelling on the past is another hard aspect to master as well. You can't change the mistakes you have made in the past and that fact alone, can scare people into thinking that they may not have what it takes to survive in the world.
It can also scare people into believing that they'll never have a chance to make things right in their life. That is a lie from Satan. He wants you to believe that you can't fix things or do anything right in life. But God tells us the exact opposite. He gives us His power and strength inside and outside to fix whatever we need to fix in our lives.
Once we can learn to let go and accept what is, and have faith that He will guide us in the future, we can continue to be His workmanship and do His good work. Ephesians 2:10 says, 10 "For we are God's handiwork, created in Christ Jesus to do good works, which God prepared in advance for us to do."
I've gone through periods of doubt in my life of wondering how I was supposed to just hand stuff in my life over to God. I asked Him to take the anxiety about it, away from me, but somehow in my heart I still doubted Him.
I knew I wanted peace over the situations, but I kept holding on to the pain that was weighing me down, mostly because I doubted my ability to completely trust God. I knew He would take care of me, but I wondered how, where and when He would do His work to get me through the hard times. Through it all, He has not failed me once. He will not fail any of His children.
God is more than capable of doing great things with our fears and relieving them. He can help us overcome them with scripture. "Do not be afraid for I am with you always." Isaiah 41:10.
Jeremiah 29:11 is one of my favorite verses in the Bible that reminds us that He knows the plans He has set for our lives. He has plans to prosper us and to guide us. He has already set His plans in motion to give us hope and a future.
Why would anyone not want to give up their unknown future to an all knowing, almighty God? We have to be willing to let Him lead us through the valley of the shadow of death sometimes though, in order to reach the mountain top in victory.