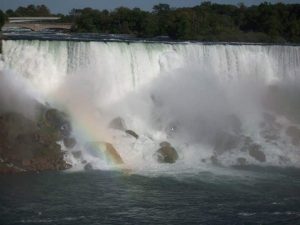 Many people ask the question of "what is faith?" Many people have belief in God. They may seem to have a better sense of peace than someone who may not know God. You may wonder how to catch a glimpse or even have some of that peace for yourself. Once you catch a glimpse or have a feeling of what God's peace feels like in your heart, it can help you pursue peace for other areas of your life. It can also motivate you to keep God's peace in your heart.
What is faith?
Faith can be the basic belief that everything will be okay, or anything that gives you courage to go on during tough times. Faith can also be belief in something bigger than yourself or the belief in God. Faith can also be described as believing in something you can't see. It can also be described as believing in a higher power. God is so much more than a higher power, though. God is our ever-present help in times of trouble, our confidant and friend that will never leave us.
With faith comes doubt:
Faith and doubt go hand in hand. But so do faith and peace. It is often difficult when times and circumstances cause you to doubt your faith. When you start doubting your faith, you may not be sure of what to do. You may feel lost, uncertain and insecure. You may not know who to talk to about the way you feel.  When I start to lose my faith, I find myself doubting my ability to trust God. I also find myself doubting whether God is really in control over my life. When the struggle becomes more manageable, or when it passes, I look back on it. I come to realize that doubting myself and doubting what God can do, was a waste of my time, because God has proven Himself and His ability to work through my situations, in order to bring glory to His kingdom.
I know that God is always there for me, but when times get tough, I sometimes feel more alone than ever. Even though I have faith that God will use my struggles to better me as a person, it is very difficult to constantly turn to Him for peace. Even though people remind me that God is in control it's kind of hard to always keep that in my heart.  I've learned to speak out against my doubt and fear. God has also taught me to say I have faith and His peace out loud. I find that if I speak about Him out loud, He instantly calms my fears and doubts.
Don't believe Satan's lies:
Satan can easily make you forget that God offers peace through your faith. He loves to play tricks on believers' minds to make you feel inferior, not good enough, and not worthy enough of God's love. He also makes you feel as though you're not worthy enough of the friendships you've made with other believers.
Satan can also try to make you think living life for God isn't worth it and that being a Christian isn't as much fun as doing things in life on our own. But doing things on your own, without God, or leaning on God can change your life for the worst, fast.  It can rob you of the peace God once gave you and that you once enjoyed having, and leave your life in chaos. Don't let Satan's poisonous words steal the peace that faith gives you.
In 1 Corinthians 16:13 it says, "Be on your guard; stand firm in the faith; be courageous; be strong."
In Ephesians 6:11-16, it says, "11 Put on the whole armor of God, that you may be able to stand against the schemes of the devil. 12 For we do not wrestle against flesh and blood, but against the rulers, against the authorities, against the cosmic powers over this present darkness, against the spiritual forces of evil in the heavenly places. 13 Therefore take up the whole armor of God, that you may be able to withstand in the evil day, and having done all, to stand firm. 14 Stand therefore, having fastened on the belt of truth, and having put on the breastplate of righteousness, 15 and, as shoes for your feet, having put on the readiness given by the gospel of peace. 16 In all circumstances take up the shield of faith, with which you can extinguish all the flaming darts of the evil one."
A question dealing with faith:
There is often the question being asked of, "why do bad things happen to good people?" That's a question that can best be answered if we examine our own lives and how happy or content we are with everything. Whether it is our financial situation, family, work or just our overall happiness about life in general. God may not always give us the answers to our most burning questions such as the one mentioned above, but we can ask for His peace and find strength in His promises to never leave us or forsake us.
God's promises to restore your faith:
Take comfort in His promises to always hear you when you call on Him in prayer, whether you call on him in silent prayer or out loud. God can help turn your life to be more faith based and to help you find His plan through your faith walk in life. The Bible says in Mathew 17:20 that faith as small as a mustard seed can move a mountain. If you tell a mountain to move in faith, believing it will move, then God will allow it to move.
2 Timothy 1:7 says, "For the Spirit God gave us does not make us timid, but gives us power, love and self-discipline." God has given us a spirit of peace that He uses for our good.
Ask God to help you keep that faith and peace in your heart and peace in your life in general.  Faith may not be something we can fully understand, but God will give us the understanding that we need in our lives, one day at a time.