Calvin's Commentary: The following story and video is about a young 18-year old teenager, Sadie Jensen, with a debilitating, life-threatening, incurable, life-long illness and a service dog named Bailey. Bailey has been trained to detect and warn Sadie when her blood sugar drops so low she could die.
This is really good news! Sadie can lead a nearly normal life with the aid of her service dog.
Stories like this are wonderful to read. They uplift my spirit in this darker season of national trials.
We are in the midst of a devastating recession with high unemployment. Even yet today, President Obama is seriously considering getting the USA involved in yet another conflict in the Middle East country of Syria to intervene in their civil war that may subject our bravest and best young men and women in harm's way to fight for either groups of insurrectionists or an evil leader, Bashar al Assad, all of whom hate the western way of life and who have no good thoughts for the USA. For all the blunders made by Obama and his administration in the mishandling of the Syrian crises, President Putin of Russia has taken to writing op-eds in the New York Times denigrating America. Putin has outright called Obama's Secretary of State John Kerry a liar. As much as I hate to say it, Putin is not wrong to say that about Kerry, but that's a whole 'nother story.
To add to our national woes, today, emboldened by the last five years of uncertainty and weakness shown by Obama and his administration, Muslim Taliban terrorists attacked our U.S. Consulate in Afghanistan, one year following another attack on a U.S. Consulate in Lybia where U.S. Ambassador Stevens and three other Americans were murdered and dragged through the streets.
Certainly, these are not the best of times for the USA. In fact, to say it more correctly, it would be better stated to write, these are perilous times for America.
I know I need to hear some good news, as I'm sure you do.
Thus I am posting the following good news story about Sadie and Bailey.
May you be blessed in the Name of Jesus Christ! For it is written that whatever is good comes down from heaven by God the Father through His Holy Spirit.
Concerning the good news story below, I have no idea if Bailey's trainer, Melissa Dolinsky, is a Christian or not. I don't know if Sadie Jensen is either.
Nevertheless, I know that all wisdom comes from the LORD of The Holy Bible.
There is no better place to gain wisdom than the Holy King James Bible, both the Old and New Testaments.
I know The Word of the LORD contains nothing but Truth and Wisdom – and that one needs both in life to make it through good and bad times successfully. I offer proof positive from the Holy Bible itself shown below and then comes the wonderful story to make your day.
The LORD JESUS CHRIST is good and He willingly gives wisdom to all who come to Him seeking to do righteousness. May you be granted all His Blessings!
I thank God for giving us the Holy Bible and all the blessings it grants to its readers.
▬ Donna Calvin ▬ Friday, September 13, 2013
†
GOOD NEWS FROM THE KING JAMES HOLY BIBLE
[2 Timothy 3:1-2] This know also, that in the last days perilous times shall come. 2 For men shall be lovers of their own selves, covetous, boasters, proud, blasphemers, disobedient to parents, unthankful, unholy,
[2 Timothy 3:16-17] All scripture is given by inspiration of God, and is profitable for doctrine, for reproof, for correction, for instruction in righteousness: [17] That the man of God may be perfect, throughly furnished unto all good works.
[James 1:17] Every good gift and every perfect gift is from above, and cometh down from the Father of lights, with whom is no variableness, neither shadow of turning.
[Proverbs 2:1-15] My son, if thou wilt receive my words, and hide my commandments with thee; [2] So that thou incline thine ear unto wisdom, and apply thine heart to understanding; [3] Yea, if thou criest after knowledge, and liftest up thy voice for understanding; [4] If thou seekest her as silver, and searchest for her as for hid treasures; [5] Then shalt thou understand the fear of the LORD, and find the knowledge of God. [6] For the LORD giveth wisdom: out of his mouth cometh knowledge and understanding. [7] He layeth up sound wisdom for the righteous: he is a buckler to them that walk uprightly. [8] He keepeth the paths of judgment, and preserveth the way of his saints. [9] Then shalt thou understand righteousness, and judgment, and equity; yea, every good path. [10] When wisdom entereth into thine heart, and knowledge is pleasant unto thy soul; [11] Discretion shall preserve thee, understanding shall keep thee: [12] To deliver thee from the way of the evil man, from the man that speaketh froward things; [13] Who leave the paths of uprightness, to walk in the ways of darkness; [14] Who rejoice to do evil, and delight in the frowardness of the wicked; [15] Whose ways are crooked, and they froward in their paths:
†
I pray The Word of God has blessed you!
▬ Donna Calvin ▬ Friday, September 13, 2013
*|* *|* *|* *|* *|* *|*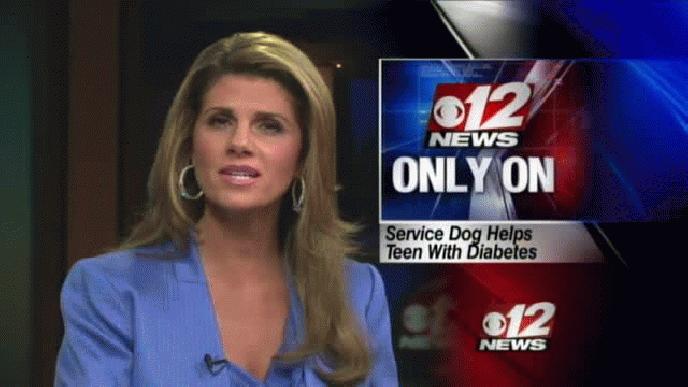 Story By: Wendie Donica/CBS12 News
Friday, September 13 2013, 06:47 PM EDT
WEST PALM BEACH, FLa — Service dog helps teen with diabetes 18-year-old Sadie Jensen does not live like most teenagers.
" I can't leave my house. I wasn't able to leave my house unless I had a parent, friend, or sibling with me, Sadie Jensen said.
The reason — Sadie is living with Hypoglycemia Unawareness Diabetes, which means, with no warning her blood sugar could drop to dangerous levels.
"Bailey's going to help her have an independent life." Said, Trainer Melissa Dolinsky.
Thanks to her new service dog, Bailey and his trainer Melissa, Sadie will get the life saving warning she needs when her blood sugar levels are low. How is this possible?
"With blood sugar low service dogs can do it by scent", Said Melissa Dolinsky.
Sadie and Bailey have only been together for a few days but already they share a special bond and the opportunity to live a normal life.
Read More and See Video: http://cbs12.com/news/top-stories/stories/service-dog-helps-teen-diabetes-10089.shtml?wap=0