President Barack Hussein Obama is spiraling downward even in left-leaning polls.
John 8:32 And ye shall know the truth, and the truth shall make you free.
Item #1 of 3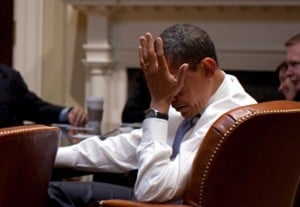 Americans are split on whether President Barack Obama is honest and trustworthy, according to a new CNN/ORC International poll.
A day before the president appeals to the American people in a prime time address to support military action against Syria, the CNN survey shows that 51% of the public says that Obama is honest and trustworthy, with 49% disagreeing.
After a decade of war in the Middle East, the poll now shows that nearly two-thirds of the public say the U.S. should be very reluctant to use military force around the world.
Obama's speech and his administration's aggressive lobbying effort to get support is the focus of Crossfire, which debuts at 6:30 p.m. ET on CNN. Crossfire guests will be Sen. Bob Menendez, a strong supporter of Obama's efforts, and Sen. Rand Paul, who has been firmly against military action in Syria.
Item #2 of 3
President Barack Obama's approval rating on foreign policy has hit the lowest mark of his presidency, a new CNN/ORC International poll shows.
A day before the president takes his case for military action against Syria to the American people, the poll shows that only 40% of those surveyed approve of Obama's performance on foreign policy. That number has declined over the course of the year, from 54% in January. Only three in 10 approve of how Obama is handling the crisis in Syria, the poll indicates, and 63% disapprove.
The poll also shows that the proportion of Americans who approve of Obama's overall performance is holding steady at 45%, the same rating as in CNN's last poll on the subject in June.
Item #3 of 3
A new national survey shows President Barack Obama is swimming against a strong tide of public opinion as he presses his case for a U.S. military strike in Syria.
Nearly six in 10 Americans think Congress should not authorize limited military action in Syria, with roughly seven in 10 saying that air strikes against Syria would not achieve any significant goals for the U.S. and that the U.S. does not have any national interest in Syria.
If Congress authorizes military action against Syria, a 55% majority would still oppose air strikes against Syrian military targets — and if Congress does not do so, opposition to U.S. air strikes rises to 71%.
The CNN/ORC International poll surveyed 1,022 adult Americans on September 6-8. The margin of error is +/- 3%.
CNN Breaking News – September 9, 2013
http://CNN.com
~+~
Calvin's Commentary: There is nothing conservative about CNN. I always refer to them as the Communist News Network. Only MSNBC and Al Jazeera America TV (which is the old failed Al Gore Current TV station that Gore sold to Islamic Muslims supported by Mullahs and Big Oil Terrorists but refused to sell to a 100% genuine American-owned TV broadcaster) is two of the more communist leaning networks than CNN, so the poll reflected below would never parrot anything but the most favorable image of their friend and ally. Even in the CNN poll, 49% believe the current president Obama is liar! And if they polled about Secretary of State Kerry, it would probably be an even higher percentage who believe that he is a liar. ▬ Donna Calvin ▬ Monday, September 9, 2013