The first and foremost all Christians are called to do is to pray continually.
[Romans 12:12-14] Rejoicing in hope; patient in tribulation; continuing instant in prayer; [13] Distributing to the necessity of saints; given to hospitality. [14] Bless them which persecute you: bless, and curse not.

[1 Thessalonians 5:17] Pray without ceasing.
I know that God orders us to mourn with those who mourn and grieve with those who grieve; therefore, we should not forget the loss of life in the Middle East. We should allow ourselves to grieve for the lost lives of innocent men, woman and children. Pray for the surviving family members.
[Romans 12:15] Rejoice with them that do rejoice, and weep with them that weep.
There will be many Jews who die in the Middle East who will pass into eternity with the stain of their every sin and transgression they have ever known. They will have died never having known that their Messiah Yeshua has already come and paid the price for their sins. While there is nothing that we can do for those who have already died in the many wars and persecutions in the Middle East who were not ever saved, we can and must pray for those Jews and Gentiles to be sent witnesses who will preach the Gospel and The Word to them, for nothing but the Word of God can save anyone. Moreover, in Romans 11:11 Christians are commanded to minister to the Jews. We Christians are to provoke the Jews to jealousy so they desire Jesus Christ, to be their Messiah Yeshua. If we are not kind and loving to God's Chosen People, the Jewish people, how can we ever be their minister? To not minister to the Jew is a grievous sin against God based upon this Holy Scripture.
[Romans 11:11] I say then, Have they stumbled that they should fall? God forbid: but rather through their fall salvation is come unto the Gentiles, for to provoke them to jealousy.

[2 Timothy 4:2] Preach the word; be instant in season, out of season; reprove, rebuke, exhort with all longsuffering and doctrine.
We all hear every contestant in any beauty pageant asking for world peace. God asks us to pray for the peace of Jerusalem.
[Psalms 122:6] Pray for the peace of Jerusalem: they shall prosper that love thee.
We can spread the message of charity (love) the Christian should have for Israel, not only the land that belongs to them – the Land that God gave them, but to let our fellow Christians know that we are not to be anti-Semites here at home in America. We should not exercise bigotry because of jealousy of the Jewish prosperity among them to be lawyers, doctors, scientists and good businessmen in many prosperous professions that require great expertise; for example jewelers. We Christians are still beholden to God to keep His Old Testament Covenant.
[Genesis 12:1-3] Now the LORD had said unto Abram, Get thee out of thy country, and from thy kindred, and from thy father's house, unto a land that I will shew thee: [2] And I will make of thee a great nation, and I will bless thee, and make thy name great; and thou shalt be a blessing: [3] And I will bless them that bless thee, and curse him that curseth thee: and in thee shall all families of the earth be blessed.

Kristallnacht, the Night of Broken Glass
There are many fine organizations that will provide financial aid to Israel passing on donations they receive for Israel and the Jewish people who are often living in dire circumstances having had their homes bombed and burned out. We should research and give generously to those organizations that provide help to God's chosen people, remembering always, that this is an offering and must be above the tithe to our local church and charity here at home.
[2 Corinthians 9:7] Every man according as he purposeth in his heart, so let him give; not grudgingly, or of necessity: for God loveth a cheerful giver.
Pray for our American troops that stand in the gap providing safety and training to many peoples in the Middle East. Pray for the War not only for our American Troops are waging but for and all the troops of our allies from every country in the War most of us have forgotten the name of, "Enduring Freedom."


The names of the countries and the number of fatalities for each country are listed below:
Albania 1, Australia 39, Belgium 1, Canada 158, Czech 5, Denmark 43, Estonia 9, Finland 2, France 86, Georgia 17, Germany 53, Hungary 7, Italy 47, Jordan 2, Latvia 3, Lithuania 1, NATO 9, Netherlands 25, New Zealand 11, Norway 10, Poland 36, Portugal 2, Romania 19, South Korea 1, Spain 34, Sweden 5, Turkey 14, UK 440, USA 2,177

–

[Source: http://icasualties.org/OEF/Nationality.aspx – and on that page there is a listing of every one's date of death, name, rank, age, unit, branch, state, city, cause, place of death, and where they died.]
[Joshua 1:9] Have not I commanded thee? Be strong and of a good courage; be not afraid, neither be thou dismayed: for the LORD thy God is with thee whithersoever thou goest.
Pray for Israeli's political leaders and the Israeli military.

Benjamin Netanyahu is the Prime Minister of the State of Israel. Israel's Top General is the Defense Forces Chief of Staff Lt. Gen. Benny Gantz and would be the equivalent to the Chairman of the Joint Chiefs of Staff in the USA.

[Psalms 29:11] The LORD will give strength unto his people; the LORD will bless his people with peace.
Defense Forces Chief of Staff Lt. Gen. Benny Gantz (left) | Benjamin Netanyahu (right)
Get educated. American's know very little about the real relationship between the Israelis and the Palestinians.

For example, Israel never "gave back" the West Bank to the Palestinians as the mainstream American media projects.
MYTH – "Israel "occupies" the West Bank." FACT – In politics words matter and, unfortunately, the misuse of words applying to the Arab-Israeli conflict has shaped perceptions to Israel's disadvantage. As in the case of the term "West Bank," the word "occupation" has been hijacked by those who wish to paint Israel in the harshest possible light.

Some suggestions to get started.
Read More: http://www.jewishfederations.org/page.aspx?id=78861
Read more: http://frontpagemag.com/2013/david-horowitz/why-israel-is-the-victim/

[John 14:27] Peace I leave with you, my peace I give unto you: not as the world giveth, give I unto you. Let not your heart be troubled, neither let it be afraid.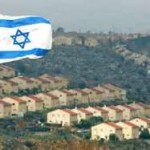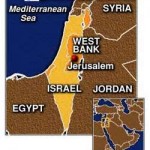 A Christian belief in the return of the Jews to the Holy Land has roots in the US, which pre-date both the establishment of the Zionist movement and the establishment of Israel. Lobbying by these groups, to influence the US government in ways similar to Zionist ideology, dates back to at least the 19th century. Lobby American leaders to support Israel. Contact President Obama, Vice President Biden, whoever will be the next Secretary of State, Secretary of Defense, your Congressional Representative in the U.S. House and your two U.S. Senators. Fax, call, email, and write letters to all of them frequently urging them respectfully to support Israel. Explain that Israel, the only democracy and tolerant society in the Middle East, is surrounded by Muslim states that have sworn to destroy it and have conducted a genocidal propaganda campaign against the Jews, promising to "finish the job that Hitler started." A global wave of Muslim propaganda and left-wing anti-Semitism, has spread through Europe and the United Nations and made Israel a pariah nation.
[1 Timothy 2:1-5] I exhort therefore, that, first of all, supplications, prayers, intercessions, and giving of thanks, be made for all men; [2] For kings, and for all that are in authority; that we may lead a quiet and peaceable life in all godliness and honesty. [3] For this is good and acceptable in the sight of God our Saviour; [4] Who will have all men to be saved, and to come unto the knowledge of the truth. [5] For there is one God, and one mediator between God and men, the man Christ Jesus;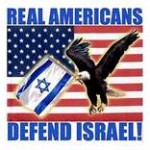 Therefore,
We Pray For The Peace of Jerusalem.
We Pray for Our Own Leaders in America,
May They Speak Comfort to Jerusalem.
May We NOT be Numbered Among Israel's Enemies, God Forbid!

We Pray For The American People,
May They NOT be Deceived by the Media.
May Their Eyes be Opened with regard to God's People Israel.


We pray for an END to Lies,
Slander, Blood Libel, Propaganda,
and Antisemitism against Your Beloved.

We Pray For an End to Slavery,
Hostage-Taking,
and Piracy wherever it is Practiced Around the World.

We Beseech You on Behalf of Our Captive Brethren,
Christians and Jews,
In Bondage in Hostile lands.

We Plead For Israeli Control Over All the Holy Sites in Israel,
so that All Faiths may visit them.

We Pray For Bibi Netanyahu, and the Leaders of Israel
May They Receive Wisdom from You to do the Right Thing.

We Pray For The Swift and Sure Coming of Messiah,
Blessed Be He,
To Establish His Kingdom,
and Make All Things Right.

In Yeshua's Name, we pray.

Amen

Source of prayer: http://www.freerepublic.com/focus/f-religion/2987306/posts
Those Who Bless Israel Will Be Blessed, and Those Who Curse Israel Will Be Cursed
Genesis 12:1-3
.
.
.