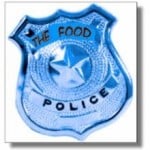 Calvin's Commentary: Like other dictators and communists have done in the past, Michelle Obama originally said that her food "guidelines" were just guidelines, not mandates. Alas, hungry school students find that they are being mandated to be hungry and paying more since the First-Lady-Nazi-Food Policewoman got involved! How do you know when a Democrat is lying? When they are talking! ▬Donna Calvin ▬ Monday, October 1, 2012
____________________________________
Item #1 of 2
1000 students at Parsippany Hills High School bag the new lunch program
Monday October 1, 2012, 12:00 PM
STAFF WRITER
Parsippany Life

About 1,000 students at Parsippany Hills High School boycotted the new federally-mandated lunch program designed to fight childhood obesity, by bringing instead of buying their lunches on Friday, Sept. 28.
This September, students returned to school and found that sweeping changes had been made to meal time offerings – prices went up while quantities went down.
The USDA's new regulations effected what may be offered within the Federal lunch and breakfast programs.
Some of the most dramatic changes implemented were: smaller entrées, including reduced portions of bread and protein; 1 percent flavored milk was replaced by flavored fat-free milk; increased portions of fruit and vegetables; and a price increase of $0.10 to $0.15 per meal taking the price to the $2.60 – $3.25 range.
These new regulations are part of the Healthy, Hunger-Free Kids Act, signed by President Obama in December 2010, with the new guidelines taking effect in the 2012-2013 school year.
It was a long-fought fight but considered necessary by government leaders.
"The crisis of poor diets threatens the future of our children and our nation," said Agriculture Secretary Tom Vilsack. "With many children consuming as many as half their daily calories at school, strengthening nutritional standards is an important step in the Obama administration's effort to combat childhood obesity and improve the health and wellbeing of all our kids."
The proposed changes to school meal standards, which would add more fruits, vegetables, whole grains, fat-free and low-fat milk to school meals, are based on recommendations released in October 2009 by the National Academies' Institute of Medicine, which also requires limits on the levels of saturated fat, sodium, and trans-fats in meals. The new standards, also for the first time, set a calorie maximum on school meals.
"Raising a healthier generation of kids will require hard work and commitment of a host of partners," said Vilsack. "We understand that these improved meal standards may present challenges for some school districts, but the new law provides important new resources, technical assistance and flexibility to help schools raise the bar for our kids."
For some students these changes were just not acceptable. Two of them, Brandon Faris, a senior, and Nicholas Caccavale, a junior at Parsippany Hills High School organized a lunch strike. For one day students were asked to "brown bag it" instead of purchasing their lunches from the cafeteria to protest the new smaller portion- higher price program.
Paying more and still be hungry was the issue for most participants. Because although students at the high school and middle school are able to make additional purchases to augment their meals, the higher costs could impact just how much they can afford.
The protest was done in a non-disruptive fashion and it received support from some parents, teachers and the administration.
"[On] September 28, 2012, students at Parsippany Hills High School participated in a boycott of the school lunch program to express their discontent with the new federal nutritional regulations for school lunches," Superintendent Dr. LeRoy Seitz said in a statement released that afternoon.
"During their lunch periods the students were respectful and simply reported to the cafeteria with brown bagged lunches or decided not to purchase a lunch today. Students at our 13 other schools did not participate in the boycott. There were no disciplinary incidents reported."
Email: forrestc@northjersey.com
Read More: http://www.northjersey.com/news/172111291_Some_students_at_Parsippany_Hills_High_School_bag_the_new_lunch_program.html?page=all
Item #2 of 2
Complaints Mount Against Michelle Obama's New Lunch Menu
By Kyle Olson – Sep 23, 2012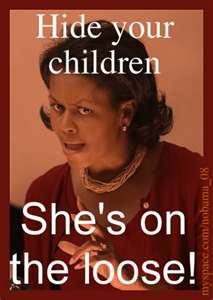 In Wisconsin, high school athletes are complaining about not getting enough to eat each day, due to the skimpy new school lunch menu mandated by the United States Department of Agriculture and First Lady Michelle Obama.
The story we published earlier this week on that subject is unfortunately not unique. Students across the country are complaining about the new school lunch regulations.
Perhaps the real motive is to starve students into slimming down. Just ask students in Pierre, South Dakota who, too, are in an all-out revolt.
"I know a lot of my friends who are just drinking a jug of milk for their lunch. And they are not getting a proper meal," middle school student Samantha Gortmaker told Keloland.com.
Despite the fact that the new regulations have increased the cost of a lunch 20 to 25 cents per plate, it's not pleasing students.
Some are throwing away their vegetables while others are adapting to the rules by becoming industrious. In New Bedford, Massachusetts, students have created a black market – for chocolate syrup. The kiddie capitalists are smuggling in bottles of it and selling it by the squeeze, according to SouthCoastToday.com.
Nancy Carvalho, director of food services for New Bedford Public Schools, was quoted as saying that hummus and black bean salads have been tough sells in elementary cafeterias. That means even smaller children are going through the day fighting hunger pains, which can never be considered a good thing.
One government official tried to put the blame on the students.
"One thing I think we need to keep in mind as kids say they're still hungry is that many children aren't used to eating fruits and vegetables at home, much less at school. So it's a change in what they are eating. If they are still hungry, it's that they are not eating all the food that's being offered," USDA Deputy Undersecretary Janey Thornton was quoted as saying.
Ms. Thornton just put her finger on the problem. The government is trying to impose a new diet that children are not accustomed to. It's not reasonable to expect them to either eat what the government deems healthy or go hungry.
Many will opt to go hungry, and that's the government's fault.
Read More: http://townhall.com/columnists/kyleolson/2012/09/23/complaints_mount_against_michelle_obamas_new_lunch_menu
↓↓↓↓↓↓↓↓↓↓↓↓↓↓↓↓↓↓↓↓↓↓↓↓↓↓↓↓
PLEASE SCROLL DOWN TO
"FILED UNDER"
CLICK ON ANY OF THOSE TOPICS TO TAKE YOU TO SIMILAR POSTINGS
Posted by Donna Calvin — Monday, October 01, 2012
Please share this Watchwoman post on Facebook, Linkedin, Google+1, Twitter to all your friends.
Click "Like", Share, and Leave Comments.
Visit Word Warriorette, a free Yahoo Group, and subscribe to be notified (one email a day) of new posts on Watchwoman.
http://groups.yahoo.com/group/WordWarriorette/
DISCLAIMER: Beliefnet puts paid advertisements on "Watchwoman on the Wall" blog site including some that would never be approved of by the King James Bible, Pastor Ernie Sanders of Doers of the Word Church, What's Right-What's Left Radio Ministry, the Voice of the Christian Resistance, Geauga County Right to Life and Donna Calvin.  We at www.WRWL.org do not condone, endorse, adhere to, practice or believe in many of the topics and some of what other bloggers promote or their religions at Beliefnet.  However, Mrs. Calvin has no control of what Beliefnet displays.   She blogs at Beliefnet because she is in the missionary field ministering to true believers posting articles and commentaries informing pro-life, conservative Christians of recent anti-Christian acts and hostile legislation to God's Agenda and His Will for the world.  Hopefully, unbelievers will read these along with the salvation message of Jesus Christ as written in the Gospel of John, Chapter 3, according to the King James Bible, and be saved.  A missionary must go into the unbelievers' territory to reach them.  Her mission is to Proclaim Warning to a Nation that has forgotten their Lord and Savior Jesus Christ, the only Truth, the Life, and the only Way to the One God the Father. (Posted 10/01/12)
BEST OF THE BEST ON WATCHWOMAN
"Inspirational. Do you know for sure?"
http://blog.beliefnet.com/watchwomanonthewall/?p=4928
~†~