As election campaigning gets into full swing, you should know which political party best represents your values. The official Democratic and Republican platforms have been adopted by their respective parties and clearly indicate stark differences.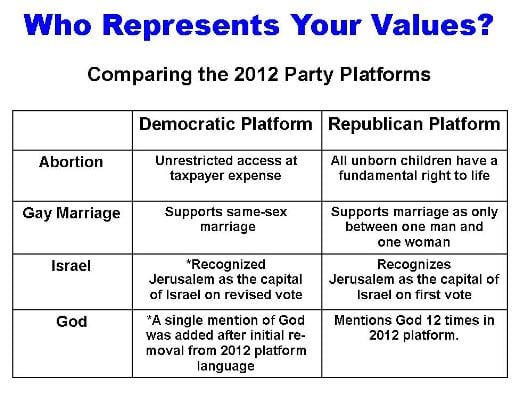 *The Democratic Convention held a controversial second vote (three times) to amend the originally adopted platform.
Read each party's 2012 platform here (pdf only): Democrat Party | Republican Party
A lot is at stake in the November 6, 1012 election. Are you prepared to vote your values? First and foremost, are you registered to vote? If not…
Register to Vote Here! It's fast, easy and free!
To help you vote wisely, you can access the 2012 AFA Action Voter Guide. This voter guide is a comprehensive study of candidates running for public office in your state.(Some states may not be 100% complete because of primaries, so check back often.)
The 2012 AFA Action Voter Guide includes voting records, endorsements, donation records and issue surveys for candidates running for U.S. President, U.S. Senate and the U.S. House of Representatives. Some state guides include state-level races as well.
If you are deeply concerned with the direction our country is moving, use your influence by becoming an informed and well-equipped voter.
| | |
| --- | --- |
| | Access the 2012 AFA Action Voter Guide Now! |
See the complete voter guide – click – http://www.afaaction.net/
It is very important that you forward this alert to your friends and family members.
↓↓↓↓↓↓↓↓↓↓↓↓↓↓↓↓↓↓↓↓↓↓↓↓↓↓↓↓
PLEASE SCROLL DOWN TO
"FILED UNDER"
CLICK ON ANY OF THOSE TOPICS TO TAKE YOU TO SIMILAR POSTINGS
Posted by Donna Calvin — Wednesday, September 12, 2012
Please share this Watchwoman post on Facebook, Linkedin, Google+1, Twitter to all your friends.
Click "Like", Share, and Leave Comments.
Visit Word Warriorette, a free Yahoo Group, and subscribe to be notified (one email a day) of new posts on Watchwoman.
http://groups.yahoo.com/group/WordWarriorette/
DISCLAIMER: Beliefnet puts paid advertisements on "Watchwoman on the Wall" blog site including some that would never be approved of by the King James Bible, Pastor Ernie Sanders of Doers of the Word Church, What's Right-What's Left Radio Ministry, the Voice of the Christian Resistance, Geauga County Right to Life and Donna Calvin.  We at www.WRWL.org do not condone, endorse, adhere to, practice or believe in many of the topics and some of what other bloggers promote or their religions at Beliefnet.  However, Mrs. Calvin has no control of what Beliefnet displays.   She blogs at Beliefnet because she is in the missionary field ministering to true believers posting articles and commentaries informing pro-life, conservative Christians of recent anti-Christian acts and hostile legislation to God's Agenda and His Will for the world.  Hopefully, unbelievers will read these along with the salvation message of Jesus Christ as written in the Gospel of John, Chapter 3, according to the King James Bible, and be saved.  A missionary must go into the unbelievers' territory to reach them.  Her mission is to Proclaim Warning to a Nation that has forgotten their Lord and Savior Jesus Christ, the only Truth, the Life, and the only Way to the One God the Father. (Posted 09/12/12)
BEST OF THE BEST ON WATCHWOMAN
"Inspirational. Do you know for sure?"
http://blog.beliefnet.com/watchwomanonthewall/?p=4928
~†~