Watchwoman: Please pray for the Salman family and religious freedom in America. It is slowly being eroded away (and lately even more rapidly) and no one, least of all the Christian Church at large cares, because "this one or that one doesn't have the RIGHT theology". Guess what! When we're all in the same gulags, then the Methodists won't care that the Presbyterians or the Baptists or the Lutherans don't have the "right" theology. If we don't start meeting at the foot of the cross, we shall all meet in jails, prisons and soon to come concentration camps right here in the U.S.A. ▬ Posted by Donna Calvin Saturday, July 7, 2012
Psalm 121:1 <A Song of degrees.> I will lift up mine eyes unto the hills, from whence cometh my help. [2] My help cometh from the LORD, which made heaven and earth. [3] He will not suffer thy foot to be moved: he that keepeth thee will not slumber. [4] Behold, he that keepeth Israel shall neither slumber nor sleep. [5] The LORD is thy keeper: the LORD is thy shade upon thy right hand. [6] The sun shall not smite thee by day, nor the moon by night. [7] The LORD shall preserve thee from all evil: he shall preserve thy soul. [8] The LORD shall preserve thy going out and thy coming in from this time forth, and even for evermore.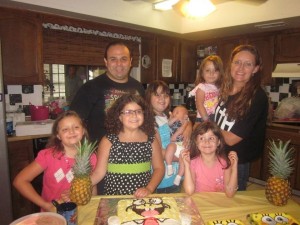 http://www.youtube.com/watch?v=T7tpX6oXZwA
THE BLAZE COMMENTS: We've told you before about government regulations hampering home Bible studies, but this story is even more pervasive, perplexing and complicated than the others. Michael Salman, who lives in Phoenix, Ariz., has been sentenced to a startling 60 days in jail, given a $12,180 fine and granted three years probation for refusing to stop hosting Bible studies at his home. Why, you ask? He's apparently in violation of the city's building code laws.
City officials claim that he's running an operation that is reminiscent of a home church — but without the required permits. And according to Fox's Todd Starnes, Phoenix court documents show that he violated 67 codes. Unless the U.S. Ninth Circuit Court of Appeals grants an emergency injunction, he will be jailed as early as next week.
Man Facing Jail For Hosting Home Bible Study
A Phoenix man has been sentenced to 60 days in jail after he refused to stop hosting Bible studies in the privacy of his home – in violation of the city's building code laws.
STAY UP TO DATE ON THE CULTURE WAR. CLICK HERE TO FOLLOW TODD ON FACEBOOK!
However, the Phoenix city prosecutor's office said the violations have nothing to do with religious freedom — and everything to do with public safety.
"It came down to zoning and proper permitting," said Vicki Hill, the chief assistant city prosecutor. "Any time you are holding a gathering of people continuously as he does — we have concerns about people being able to exit the facility properly in case there is a fire — and that's really all this comes down to."
According to court documents provided to Fox News Radio, Michael Salman was found guilty in the City of Phoenix Court of 67 code violations. He was sentenced to 60 days in jail along with three years probation and a $12,180 fine. He could be jailed as early as next week unless the U.S. Ninth Circuit Court of Appeals grants an emergency injunction.
"They're cracking down on religious activities and religious use," Salman told Fox News Radio. "They're attacking what I as a Christian do in the privacy of my home."
"If I had people coming to my home on a regular basis for poker night or Monday Night Football, it would be permitted," he said. "But when someone says to us we are not allowed to gather because of religious purposes – that is when you have discrimination."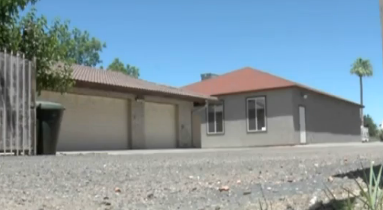 The long-running feud between Salman and the City of Phoenix culminated in the summer of 2009 when nearly a dozen police along with city inspectors raided their home. Armed with a search warrant, police confined the Salman family to the living room as they combed the property looking for violations.
Salman is the owner of Mighty Mike's Burgers — and he is also an ordained pastor. He and his wife have been hosting Bible studies on their 4.6 acre property since 2005. The gatherings were originally attended by as many as 15 people.
Hill said the city became aware of the meetings after neighbors apparently complained about traffic congestion.
In 2007 they received a letter from the city informing them that the Bible studies were not permitted in their living room because it was in violation of the construction code.
A few months later, members of the Phoenix Fire Dept. broke up the family's Good Friday fellowship. As many as 20 people were in their backyard eating a meal when firefighters threatened to call the police – unless their guests left the premises.
"Immediately after that, we decided to contact an attorney," Salman told Fox News Radio. "The city emphasized that bible studies or church-related activities are not permitted on residences because you have non-family members coming to the home and such use is considered church use."
In the summer of 2008 firefighters once again broke up a gathering – and Salman finally reached his breaking point. He ordered the firefighters to leave his property.
"We told them they had no right," he said. "They had been harassing us since February. This is our home. We are a private gathering. This is Christians gathering on my private property."
The city ignored the Salmans until 2009 – when they built a 2,000 square foot building in their backyard. Salman said he applied for and was granted the proper building permits. He also said the building has passed a city inspection.
"At that point we took our Bible study from our living room – and we moved it into that building," he said. "We started worshipping in that building every weekend."
However, Hill said Salman has "mischaracterized the facts" of the permit. She said he was given a permit to convert a garage into a game room.
"Any other occupancy or use – business, commercial, assembly, church, etc, is expressly prohibited pursuant to the city of Phoenix building code and ordinances," she told Fox News Radio.
On June 11, 2009, the Phoenix Police Dept. showed up with a search warrant. When they had completed the search, Salman was charged with 67 code violations.
He was charged with not having emergency exit signs over the doors. He was charged with not having handicap parking spaces and not having handicap ramps.
"Imagine everything that a public building would have or a commercial building would have," he said. "Anything we didn't have was a violation."
The largest source of contention has been whether or not Salman is running a church. He insists it is not.
But his building certainly resembles a church. It has chairs for as many as 40 people. There is a pulpit. There's a sign out front – along with a cross.
"Just because visitors come to my home three times a week and we discuss the Bible – if that's their definition of a church then so be it," he said.
"At what point does the government have the right to state that you cannot have family and friends over at your home three times a week?" he asked. "People have a right to gather on their property as long as parking is available, as long as they aren't parking in the street, as long as they aren't violating noise ordinances."
Hill said the facts are clear.
"He built a structure that he said wasn't a church — that is in fact — a church," she said. "It's a church."
And the courts agreed — noting in a Jan. 4, 2010 ruling: "The state is not saying the Salmans can't run a church or have worship services at the location. But the state is saying that if they do so, they must do it properly and in accord with fire and zoning codes."
Salman's attorney has filed an appeal with the federal court – and unless they intervene – Salman will start serving his sentence on July 9.
Source: http://www.theblaze.com/stories/christian-fined-sentenced-to-60-days-in-jail-over-az-home-bible-studies/
Read More: http://radio.foxnews.com/toddstarnes/top-stories/man-facing-jail-for-hosting-home-bible-study.html
Related Watchwoman Links – Pastor Salman – Phoenix AZ – If links do not work, copy and paste
Christian Fined & Sentenced to 60 Days in AZ Over Home Bible Studies
http://blog.beliefnet.com/watchwomanonthewall/?p=17259
TAKE ACTION: Email Phoenix Gov't For Jailing/Fining $12,000 Home Church Pastor Salman (contact info)
http://blog.beliefnet.com/watchwomanonthewall/?p=17286

Is Pastor Salman an offensive Christian that deserves prison? (You decide)
http://blog.beliefnet.com/watchwomanonthewall/?p=17339
↓↓↓↓↓↓↓↓↓↓↓↓↓↓↓↓↓↓↓↓↓↓↓↓↓↓↓↓
PLEASE SCROLL DOWN TO
"FILED UNDER"
CLICK ON ANY OF THOSE TOPICS TO TAKE YOU TO SIMILAR POSTINGS
~†~
Posted by Donna Calvin — Saturday, July 07, 2012
~†~
Please share this Watchwoman post on your Facebook page, Linkedin, Google+1, Twitter to all your friends.
Please click "Like", Share, and Leave Comments. 
Visit Word Warriorette, a free Yahoo Group, and subscribe to be notified (one email a day)
of new posts on Watchwoman.
http://groups.yahoo.com/group/WordWarriorette/
DISCLAIMER: Beliefnet puts paid advertisements on "Watchwoman on the Wall" blog site including some that would never be approved of by the King James Bible, Pastor Ernie Sanders of Doers of the Word Church, What's Right-What's Left Radio Ministry, the Voice of the Christian Resistance, Geauga County Right to Life and Donna Calvin.  We at www.WRWL.org do not condone, endorse, adhere to, practice or believe in many of the topics and some of what other bloggers promote or their religions at Beliefnet.  However, Mrs. Calvin has no control of what Beliefnet displays.   She blogs at Beliefnet because she is in the missionary field ministering to true believers posting articles and commentaries informing pro-life, conservative Christians of recent anti-Christian acts and hostile legislation to God's Agenda and His Will for the world.  Hopefully, unbelievers will read these along with the salvation message of Jesus Christ as written in the Gospel of John, Chapter 3, according to the King James Bible, and be saved.  A missionary must go into the unbelievers' territory to reach them.  Her mission is to Proclaim Warning to a Nation that has forgotten their Lord and Savior Jesus Christ, the only Truth, the Life, and the only Way to the One God the Father.
Read more: http://blog.beliefnet.com/watchwomanonthewall/?p=4928
~†~
~END~
____________________________________________________
Check out
Pastor Michael Salman's Ministry Home Page
Harvest Christian Fellowship
http://www.hcfaz.org/