Watchwoman: I have already eaten my last ever Oreo cookie. We will boycott Kraft Foods as well!
Note that Kraft Foods uses Aborted Baby Cells to Enhance Food and Beverage Flavors
See Watchwoman post — http://blog.beliefnet.com/watchwomanonthewall/?p=12590 dated Feb. 20, 2012

P.S. TAKE ACTION: IF YOU'RE ON FACEBOOK, GO TO WWW.FACEBOOK.COM/OREO/PRIDE — AND LEAVE YOUR COMMENT ON HOW YOU'RE NEVER GOING TO EAT ANOTHER OREO!
DON'T BE SURPRISED IF YOUR COMMENT DOESN'T SHOW UP. ONLY SUPPORTIVE ONES ARE BEING DISPLAYED, BUT LEAVE THEM ANYWAY!!!!!!!!!!!!!!!!
KRAFT FOODS WILL SEE IT!!!!!!!!!!!!!!
▬ Donna Calvin
_______________________________________________________
Oreo Pride: Rainbow-Stuffed Cookie Sparks Boycott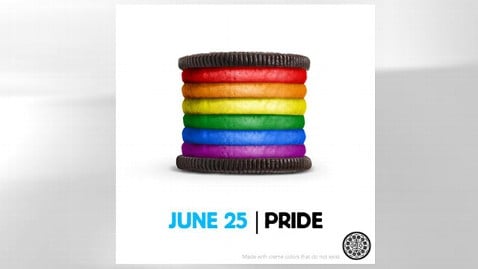 Oreo Pride: Rainbow-Stuffed Cookie Sparks Boycott
America's favorite cookie is stirring up more than milk today after Kraft Foods posted a gay pride Oreo on the cookie's Facebook page.
Oreo posted the photoshopped picture of an Oreo cookie stuffed with rainbow-colored layers of frosting Monday evening with the caption "Proudly support love!"
Over the past 17 hours more than 157,000 people have "liked" the image, 40,000 people have shared it and 20,000 have commented on it.
But while many of the comments were supportive, some Facebook users pledged to boycott the cookie because of the post.
"I'll never buy Oreo again," one commenter wrote.
"Disgusted with oreos," wrote another. "Being gay is an abmonitation in GOd's eyes i wont be buying them anymore."
Basil Maglaris, a spokeswoman for Oreo's parent company Kraft Foods, said in a statement that the image was part of a "series of daily ads reflecting current events in a fun way using images of OREO cookies and milk." Kraft is not planning to sell the rainbow-stuffed Oreo in stores, Maglaris said, as it was created solely for the advertising campaign in honor of Pride month.
"We are excited to illustrate what is making history today in a fun and playful way," she said in an email to ABC News. "As a company, Kraft Foods has a proud history of celebrating diversity and inclusiveness. We feel the OREO ad is a fun reflection of our values."
Other images in the Oreo ad campaign, which celebrates the cookie's 100th birthday, include a parody of the No. 1 hit song "Call Me Maybe," depicting an Oreo and glass of milk next to tweaked lyrics.
"I just met you and this is crazy, but here's some milk so dunk me maybe," reads the ad, also posted to the Oreo Facebook wall.
Oreo is the latest in a string of juggernaut brands to show support for the LGBT community.
In honor of Pride month Target launched a line of gay pride t-shirts, and the proceeds went to support the Family Equality Council, a Washington D.C.-based gay rights advocacy group. The pride shirts sold out in less than a month.
Ben & Jerry's, a longtime supporter of LGBT causes, renamed its apple pie flavor "Apple-y Ever After" in scoop shops throughout the U.K. in March, while the British government was debating legalizing same sex marriages.
The Vermont-based ice cream company re-vamped its peanut butter-filled pretzel flavor in 2009 when same sex marriage was being legalized in Vermont, swapping the "Chubby Hubby" name for "Hubby Hubby."
Read More: http://abcnews.go.com/blogs/politics/2012/06/oreo-pride-rainbow-stuffed-cookie-sparks-boycott/
See Related Watchwoman Posts – If Links Do Not Work, copy and paste URLs
Oreo (Kraft Foods) First Sodomite Cookie
http://blog.beliefnet.com/watchwomanonthewall/?p=16970
Aborted Baby Cells to Enhance Food and Beverage Flavors
http://blog.beliefnet.com/watchwomanonthewall/?p=12590
↓↓↓↓↓↓↓↓↓↓↓↓↓↓↓↓↓↓↓↓↓↓↓↓↓↓↓↓
PLEASE SCROLL DOWN TO
"FILED UNDER"
CLICK ON ANY OF THOSE TOPICS TO TAKE YOU TO SIMILAR POSTINGS
~†~
Posted by Donna Calvin — Tuesday, June 26, 2012
~†~
Please share this Watchwoman post on your Facebook page, Linkedin, Google+1, Twitter to all your friends.
Please click "Like", Share, and Leave Comments.
Visit Word Warriorette, a free Yahoo Group, and subscribe to be notified (one email a day)
of new posts on Watchwoman.
http://groups.yahoo.com/group/WordWarriorette/
DISCLAIMER: Beliefnet puts paid advertisements on "Watchwoman on the Wall" blog site including some that would never be approved of by the King James Bible, Pastor Ernie Sanders of Doers of the Word Church, What's Right-What's Left Radio Ministry, the Voice of the Christian Resistance, Geauga County Right to Life and Donna Calvin. We at www.WRWL.org do not condone, endorse, adhere to, practice or believe in many of the topics and some of what other bloggers promote or their religions at Beliefnet. However, Mrs. Calvin has no control of what Beliefnet displays. She blogs at Beliefnet because she is in the missionary field ministering to true believers posting articles and commentaries informing pro-life, conservative Christians of recent anti-Christian acts and hostile legislation to God's Agenda and His Will for the world. Hopefully, unbelievers will read these along with the salvation message of Jesus Christ as written in the Gospel of John, Chapter 3, according to the King James Bible, and be saved. A missionary must go into the unbelievers' territory to reach them. Her mission is to Proclaim Warning to a Nation that has forgotten their Lord and Savior Jesus Christ, the only Truth, the Life, and the only Way to the One God the Father.
Read more: http://blog.beliefnet.com/watchwomanonthewall/?p=4928
~†~
~END~