Item #1 – (a.) Hustler publisher endorses Obama (b.) Says "iodine deficiency" is the cause of religion.
___________________________________
Item #2 – Flynt Publishes Conservative Woman in a Photoshopped Image Engaging in Filthy Sexual Act (video from "The View")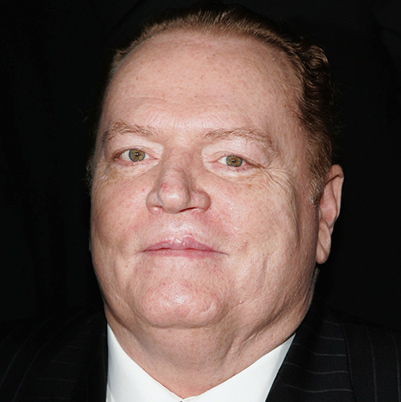 Item #1 of 2
In an interview with Reihan Salam for Vice magazine, pornographer Larry Flynt reveals that he's now a hardcore supporter of President Obama's just two years after calling Obama an "ineffectual wimp" for giving in too much to Republicans.
"I think President Obama has overperformed," Flynt says. "He got handed on his platter when he became president more than any president in history ever had to deal with…. I think he's done a marvelous job."
In the wide-ranging interview with Salam, Flynt talks about his brief but "profound" religious experience in the 1970s, as well as his views on why pornography is good for society.
"I did have a very profound religious experience," Flynt said. "I sought out a psychiatrist immediately after it happened to me."
"This is largely thought to be because of an iodine deficiency in your diet," Flynt recalls his psychiatrist telling him.
"Do you think that more devoutly religious Americans would be less devoutly religious if they just ate more salt?" Salam asks Flynt.
"[My psychiatrist] showed me a whole map of the world that shows where stronger iodine deposits were in the salts, you know, and there was always a higher degree of manic-depressive people who live in those particular areas. So he said said there's definitely a correlation between the iodine and the salt and the manic-depressive, you know, and the use of lithium as treatment," Flynt replies.
Asked by Salam if the prevalance of pornography has degraded or improved relations between men and women, Flynt says: "I think it changes it for the better. One thing that pornography does, that people don't realize, is that it desensitizes people" to sex.
See Article and Video Below: Flynt's magazine recently photoshopped conservative female commentator S.E. Cupp into an explicit photograph because the magazine disapproves of her political beliefs.
Read More: http://www.weeklystandard.com/blogs/larry-flynt-president-obama-has-overperformed-done-marvelous-job_645842.html
=============================
Item #2 of 2
National Review On Line
Even the ladies of The View rally around S. E. Cupp in the wake of Hustler's gross "satire"  objecting to what pig-pen Flynt did to a conservative lady, S.E. Cupp.
Why?  Because Pig-Porn-King-Larry Flynt does not like conservatives!
Here's the video (notice the comment from S. E. Cupp that Larry Hardcorn Porn added a male part to her mouth in the Hustler's Photoshopped image:
Read More: http://www.nationalreview.com/media-blog/300974/se-cupp-ithe-viewi-noah-glyn#
---
---
~†~
Posted by Donna Calvin — Thursday, May 24, 2012
~†~
Please share this Watchwoman post on your Facebook page, Linkedin, Google+1, Twitter to all your friends, Please click "Like", Share, and Leave Comments. 
Visit Word Warriorette, a free Yahoo Group, and subscribe to be notified (one email a day) of new posts on Watchwoman.
http://groups.yahoo.com/group/WordWarriorette/
~†~
DISCLAIMER: Beliefnet puts paid advertisements on "Watchwoman on the Wall" blog site including some that would never be approved of by the King James Bible, Pastor Ernie Sanders of Doers of the Word Church, What's Right-What's Left Radio Ministry, the Voice of the Christian Resistance, Geauga County Right to Life and Donna Calvin.  We at www.WRWL.org do not condone, endorse, adhere to, practice or believe in many of the topics and some of what other bloggers promote or their religions at Beliefnet.  However, Mrs. Calvin has no control of what Beliefnet displays.   She blogs at Beliefnet because she is in the missionary field ministering to true believers posting articles and commentaries informing pro-life, conservative Christians of recent anti-Christian acts and hostile legislation to God's Agenda and His Will for the world.  Hopefully, unbelievers will read these along with the salvation message of Jesus Christ as written in the Gospel of John, Chapter 3, according to the King James Bible, and be saved.  A missionary must go into the unbelievers' territory to reach them.  Her mission is to Proclaim Warning to a Nation that has forgotten their Lord and Savior Jesus Christ, the only Truth, the Life, and the only Way to the One God the Father.
Read more: http://blog.beliefnet.com/watchwomanonthewall/?p=4928
~†~