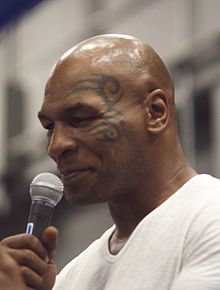 Mike Tyson thinks that George Zimmerman deserves violent retribution for the shooting of Trayvon Martin.
In an interview with Yahoo News about his upcoming one-man show in Las Vegas, the former heavyweight champion sounded off on the polarizing case:
"My personal feeling is that, as a young kid that was beat on by a bully, that was pretty much singled out—the guy [Zimmerman] stalked him, didn't follow instructions from a superior officer, when they said, 'Stop following the kid.' That tells you everything right there. But my all-around perspective, I wasn't there, I don't know what happened. But it's just so widespread and overt what happened. Even though this is the best country in the world, certain laws in this country are a disgrace to a nation of savages. It's a majority versus a minority. That's the way God planned it. He didn't want to do something about it, He wanted us to do something about it. And if we don't, it's gonna stay this way. We have to continue tweeting, we have to continue marching, we have to continue fighting for Trayvon Martin. If that's not the case, he was killed in vain, and we're just waiting for it to happen to our children. He'll have gotten away with impunity. It's a disgrace that man hasn't been dragged out of his house and tied to a car and taken away. That's the only kind of retribution that people like that understand. It's a disgrace that man hasn't been shot yet. Forget about him being arrested–the fact that he hasn't been shot yet is a disgrace. That's how I feel personally about it."
In 1992, Tyson was convicted of raping Desiree Washington, a beauty pageant contestant, and served three years in prison.
Read the full interview here.
[ SLIDESHOW: Mike Tyson: A (crazy) life in pictures ]
Other popular Yahoo News stories:
• George Zimmerman attorneys quit as counsel
• Comedian Jon Lovitz says anti-Semitic prank no laughing matter
• Trayvon Martin case exposes worst in media
~ ~ ~     ~ ~ ~     ~ ~ ~     ~ ~ ~     ~ ~ ~     ~ ~ ~     ~ ~ ~     ~ ~ ~     ~ ~ ~     ~ ~ ~     ~ ~ ~     ~ ~ ~
Watchwoman: Remember when Tyson bit  Holyfield's ear ? Here's a poster from that fight. ▬ Donna Calvin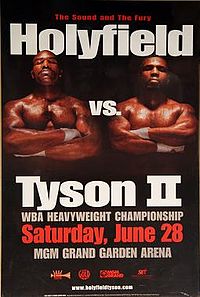 ↓↓↓↓↓↓↓↓↓↓↓↓↓↓↓↓↓↓↓↓↓↓↓↓↓↓↓↓↓↓↓↓↓↓↓↓↓↓↓↓↓↓↓↓↓↓↓↓↓↓↓↓↓↓↓↓↓↓↓↓↓↓↓↓↓↓↓↓↓↓↓↓↓↓↓↓↓↓
SEE RELATED WATCHWOMAN POSTS:
↓↓↓↓↓↓↓↓↓↓↓↓↓↓↓↓↓↓↓↓↓↓↓↓↓↓↓↓↓↓↓↓↓↓↓↓↓↓↓↓↓↓↓↓↓↓↓↓↓↓↓↓↓↓↓↓↓↓↓↓↓↓↓↓↓↓↓↓↓↓↓↓↓↓↓↓↓↓
If the following links do not work, just copy and paste the link into your browser.
~†~
Posted Thursday, April 12, 2012 by Donna Calvin
~†~
Please share this Watchwoman post on your Facebook page, Linkedin, Google+1, Twitter to all your friends, Please click "Like", Share, and Leave Comments. 
Visit Word Warriorette, a free Yahoo Group, and subscribe to be notified (one email a day) of new posts on Watchwoman.
http://groups.yahoo.com/group/WordWarriorette/
~†~
DISCLAIMER: Beliefnet puts paid advertisements on "Watchwoman on the Wall" blog site including some that would never be approved of by the King James Bible, Pastor Ernie Sanders of Doers of the Word Church, What's Right-What's Left Radio Ministry, the Voice of the Christian Resistance, Geauga County Right to Life and Donna Calvin.  We at www.WRWL.org do not condone, endorse, adhere to, practice or believe in many of the topics and some of what other bloggers promote or their religions at Beliefnet.  However, Mrs. Calvin has no control of what Beliefnet displays.   She blogs at Beliefnet because she is in the missionary field ministering to true believers posting articles and commentaries informing pro-life, conservative Christians of recent anti-Christian acts and hostile legislation to God's Agenda and His Will for the world.  Hopefully, unbelievers will read these along with the salvation message of Jesus Christ as written in the Gospel of John, Chapter 3, according to the King James Bible, and be saved.  A missionary must go into the unbelievers' territory to reach them.  Her mission is to Proclaim Warning to a Nation that has forgotten their Lord and Savior Jesus Christ, the only Truth, the Life, and the only Way to the One God the Father.
Read more: http://blog.beliefnet.com/watchwomanonthewall/?p=4928
~†~