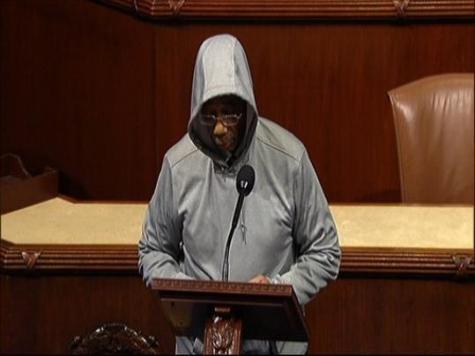 Former Black Panther Rep. Bobby Rush (D-IL) made quite a fuss when he donned a "hoodie" during a speech in the U.S. House of Representatives until he was escorted out. At the time, former Speaker Nancy Pelosi (D-CA) "applauded his courage"for doing so.
Meanwhile, back home in Rush's district, two men wearing hooded sweatshirts, or "hoodies," were the shooters in an incident that left one dead and five injured.
In fact, during a span of six-hours Thursday night, 13 people were shot, leaving two dead in Chicago. It would seem it takes more courage to simply walk down the street in Rush's district than it does to wear a hooded sweatshirt in the House of Representatives by way of a stunt in a bizarre tribute to a young man shot and killed in Florida during a shooting incident still under investigation.
The worst shooting occurred around 6 p.m. Thursday when two men in hooded sweatshirts opened fire inside a convenience store in the 1400 block of West 79th Street in the Gresham neighborhood, police said.

One man was killed and five others were wounded. The victims ranged in age from 16 to 24. The gunmen fled in an SUV and police continued searching for them this morning.
There's also another report on that particuar incident here.
Perhaps if Bobby Rush and Nancy Pelosi ever got around to actually doing something to uplift the people in Rush's district, there would be fewer stories like the one above out of Chicago, and less need to don a piece of clothing in Congress in what amounts to an empty and silly gesture.
Read More: http://www.chicagotribune.com/news/local/breaking/chi-far-south-side-man-shot-killed-near-home-20120329,0,667576.story
↓↓↓↓↓↓↓↓↓↓↓↓↓↓↓↓↓↓↓↓↓↓↓↓↓↓↓↓↓↓↓↓↓↓↓↓↓↓↓↓↓↓↓↓↓↓↓↓↓↓↓↓↓↓↓↓↓↓↓↓↓↓↓↓↓↓↓↓↓↓↓↓↓↓↓↓↓↓
SEE RELATED WATCHWOMAN POSTS:
↓↓↓↓↓↓↓↓↓↓↓↓↓↓↓↓↓↓↓↓↓↓↓↓↓↓↓↓↓↓↓↓↓↓↓↓↓↓↓↓↓↓↓↓↓↓↓↓↓↓↓↓↓↓↓↓↓↓↓↓↓↓↓↓↓↓↓↓↓↓↓↓↓↓↓↓↓↓
If the following links do not work, just copy and paste the link into your browser.
~†~
DISCLAIMER: Beliefnet puts paid advertisements on "Watchwoman on the Wall" blog site including some that would never be approved of by the King James Bible, Pastor Ernie Sanders of Doers of the Word Church, What's Right-What's Left Radio Ministry, the Voice of the Christian Resistance, Geauga County Right to Life and Donna Calvin. We at www.WRWL.org do not condone, endorse, adhere to, practice or believe in many of the topics and some of what other bloggers promote or their religions at Beliefnet. However, Mrs. Calvin has no control of what Beliefnet displays. She blogs at Beliefnet because she is in the missionary field ministering to true believers posting articles and commentaries informing pro-life, conservative Christians of recent anti-Christian acts and hostile legislation to God's Agenda and His Will for the world. Hopefully, unbelievers will read these along with the salvation message of Jesus Christ as written in the Gospel of John, Chapter 3, according to the King James Bible, and be saved. A missionary must go into the unbelievers' territory to reach them. Her mission is to Proclaim Warning to a Nation that has forgotten their Lord and Savior Jesus Christ, the only Truth, the Life, and the only Way to the One God the Father.

Read more: http://blog.beliefnet.com/watchwomanonthewall/?p=4928
~†~
Please share this Watchwoman post on your Facebook page, Linkedin, Google+1, Twitter to all your friends, Please click "Like", Share, and Leave Comments.
Visit Word Warriorette, a free Yahoo Group, and subscribe to be notified (one email a day) of new posts on Watchwoman.
http://groups.yahoo.com/group/WordWarriorette/