< – and at – > ↓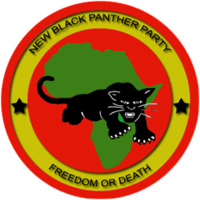 NEW BLACK PANTHER – Ideology: Black nationalism, Pan-Africanism, Anti-capitalism, Anti-Zionism, Anti-imperialism
Item #1 of 2
Yesterday afternoon at a press conference Mikhail Muhummud and the New Black Panther Party circulated a "wanted dead or alive" poster for George Zimmerman for shooting to death a Florida teenager four weeks ago.
Read More: http://visiontoamerica.org/8903/new-black-panthers-zimmerman-wanted-dead-or-alive/
______________________________________________
Item #2 of 2
EXCERPTS FROM ANOTHER STORY ABOUT $10,000 NEW BLACK PANTHER'S BOUNTY FOLLOW…


A Florida man was also charged Friday with threatening to kill Sanford Police Chief

Bill Lee

and his family. Lee temporarily stepped down as chief over the case.



"An eye for an eye, a tooth for a tooth," leader Mikhail Muhammad


Muhammad (New Black Panther leader) called on 5,000 black men to mobilize and capture the neighborhood watch volunteer. "If the government won't do the job, we'll do it," Muhammad said, leading chants that included "freedom or death" and "justice for Trayvon." Muhammad said New Black Panther's chairman, Malik Zulu Shabaz of Washington, was taking donations from black entertainers and athletes.
Group offers $10,000 to 'capture' Trayvon Martin's killer
The new Black Panther Party offered a bounty of $10,000 Saturday for the "capture" of a Florida neighborhood watch captain
By Tina Moore / NEW YORK DAILY NEWS
Members of the New Black Panther Party rally next to a memorial to Trayvon Martin outside The Retreat at Twin Lakes community in Sanford, Florida, where Trayvon was shot and killed by George Zimmerman. The group is offering a $10,000 bounty for Zimmerman's capture.
RIGHT BLASTS OBAMA FOR HIS COMMENTS ON SLAIN TEEN
The group hopes to collect $1 million off the outrage by next week.New Black Panthers members pointed to what they called the inaction of government officials — from Sanford city officials up to the governor — and accused them of lying and delaying justice.They also said
Angela Corley
, the newly appointed special prosecutor, was an enemy of the black community."She has a track record of sending innocent young black men and women to prison," Muhammad said.The Southern Poverty Law Center calls the New Black Panther Party, a black-separatist group created in 1989, "virulently racist and anti-Semitic."
PHOTOS: NATIONWIDE PROTESTS DEMAND JUSTICE FOR TRAYVON MARTIN
Zimmerman said he shot Martin in self-defense. Zimmerman's family says he is Hispanic and race was not an issue.Trayvon's mom said she was having a hard time realizing that her son's not coming home, People magazine reported Saturday."I look at every door and think, he's just going to walk through it any minute," Sybrina Fulton told the magazine."I just want to see him again, but I can't."He's in heaven, looking down at me."
Read more: http://www.nydailynews.com/news/national/black-panther-rage-10g-capture-trayvon-killer-article-1.1050370#ixzz1qGUBKAbt
↓↓↓↓↓↓↓↓↓↓↓↓↓↓↓↓↓↓↓↓↓↓↓↓↓↓↓↓↓↓↓↓↓↓↓↓↓↓↓↓↓↓↓↓↓↓↓↓↓↓↓↓↓↓↓↓↓↓↓↓↓↓↓↓↓↓↓↓↓↓↓↓↓↓↓↓↓↓
SEE RELATED WATCHWOMAN POSTS:
↓↓↓↓↓↓↓↓↓↓↓↓↓↓↓↓↓↓↓↓↓↓↓↓↓↓↓↓↓↓↓↓↓↓↓↓↓↓↓↓↓↓↓↓↓↓↓↓↓↓↓↓↓↓↓↓↓↓↓↓↓↓↓↓↓↓↓↓↓↓↓↓↓↓↓↓↓↓
If the following links do not work, just copy and paste the link into your browser.
~†~
Please share this Watchwoman post on your Facebook page, Linkedin, Google+1, Twitter to all your friends, Please click "Like", Share, and Leave Comments.
Visit Word Warriorette, a free Yahoo Group, and subscribe to be notified (one email a day) of new posts on Watchwoman.
http://groups.yahoo.com/group/WordWarriorette/
~†~
DISCLAIMER: Beliefnet puts paid advertisements on "Watchwoman on the Wall" blog site including some that would never be approved of by the King James Bible, Pastor Ernie Sanders of Doers of the Word Church, What's Right-What's Left Radio Ministry, the Voice of the Christian Resistance, Geauga County Right to Life and Donna Calvin. We at www.WRWL.org do not condone, endorse, adhere to, practice or believe in many of the topics and some of what other bloggers promote or their religions at Beliefnet. However, Mrs. Calvin has no control of what Beliefnet displays. She blogs at Beliefnet because she is in the missionary field ministering to true believers posting articles and commentaries informing pro-life, conservative Christians of recent anti-Christian acts and hostile legislation to God's Agenda and His Will for the world. Hopefully, unbelievers will read these along with the salvation message of Jesus Christ as written in the Gospel of John, Chapter 3, according to the King James Bible, and be saved. A missionary must go into the unbelievers' territory to reach them. Her mission is to Proclaim Warning to a Nation that has forgotten their Lord and Savior Jesus Christ, the only Truth, the Life, and the only Way to the One God the Father.
Read more: http://blog.beliefnet.com/watchwomanonthewall/?p=4928
~†~