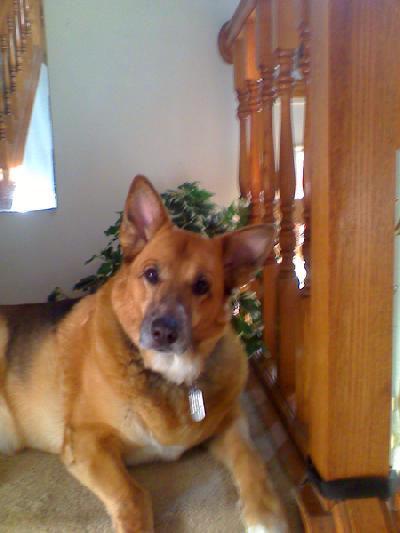 Watchwoman: I saw this video report on last night's news that has been previously reported about several times in the past several months. It is  heartbreaking. Beloved dogs have died in our area and it seems that Waggin Train is not accepting responsibility or doing anything about it, denying anything in their product is toxic.  Store owners are not removing the Waggin Train treats from their shelves either.  I examine carefully the ingredients and where a product is made before I purchase anything for our dog and have for a long while refusing to purchase any product made in China.  We love our German Shepherd like she is a family member.  She is my computer companion who faithfully lays next to me while I do this blog.  At night, she bargains with my DH to see who gets the coveted seat next to me on the love seat, him or her. I feel sorry for the people who have lost their pets even after racking up huge vet bills attempting to save their dog's lives only to lose them anyway.  I copied and pasted a few of the comments left at the 19 Action News web site.  (see below).  I couldn't get the news clip to embed and display even after performing a few cyberspace gymnastics, but I included the link to the video.  ▬ Donna Calvin
_________________________________________
Sickening: Are wholesome Waggin Train treats hurting pets?
CLEVELAND, OH (WOIO) – More healthy dogs are getting seriously sick — some are even dying.
And the one thing they have in common are "dog treats!" Waggin Train treats and their owners are convinced they're poison.
When Tigger, the furriest member of the Feldt family, started getting sick his owners thought his illness might be related to Waggin Train dog treats. The Feldt's made the connection after seeing a story on 19 Action News about Chauncey the Pug — who's kidneys gave out. His death is linked to Waggin Train Chicken Jerky Dog Treats made in China.
"You find out what you thought were giving as a treat was poison! Its not right," said Marcy Feldt.
Tigger bounced back but lost 40% of his kidney function.
The Safranek's pet, Little Samson, was not so lucky.
"He was our everything," said Terry Safranek.
All they have left to remember him by is an empty bed and an unused leash.
The Safranek's saw our story with Chauncey's owners too.
"It's the same thing! She's holding the exact same bag!" Terry Safranek said.
When Samson hadn't eaten for 9 days and threw up too many times to count, Terry thought…
"You don't kill your dog by giving him good treats!" said Terry Safranek. "He was healthy and energetic. It was like a snowball effect it happened so fast."
Even though the FDA has issued a warning about the link between the chicken jerky and serious illness in dogs — our cameras found the same Waggin Train dog treats still on the shelves where the Safranek's bought theirs and the Waggin Train phone message explains why….
WAGGIN TRAIN MESSAGE: "Extensive testing by the FDA has not uncovered a contaminant or specific ingredient as the cause of any illness."
The Waggin Train Dog Treats Facebook page says "Pet owners and their pets have a commitment to taking care of each other and customers can count on chicken jerkytreats made only from wholesome ingredients."
Link to News Video: http://www.19actionnews.com/story/16575371/sickening-are-waggin-train-treats-hurting-pets?autoStart=true&topVideoCatNo=default&clipId=6663887
Comments left at 19Action News Post:
▲ Joe – Boycott anything from China! I'm a little tired of their "Take this Yankee Dog" attitude. You can't sue them either. Don't trade or buy anything from them, that will teach them.
▲ JOHN – Try not to buy any treats or food made in China,they don't care about whats in them.
▲ @yelodoggie – It's not just Waggin Train. It's all chicken jerky made in China. I keep finding Milo's Kitchen Chicken Jerky (China) on the store shelves and I keep emptying the shelves and giving them to store managers. Until the FDA issues a recall, they will find their way back onto shelves. Share the info on your social networking sites and warn as many dog owners as you can.
Read more: http://www.19actionnews.com/story/16575371/sickening-are-waggin-train-treats-hurting-pets