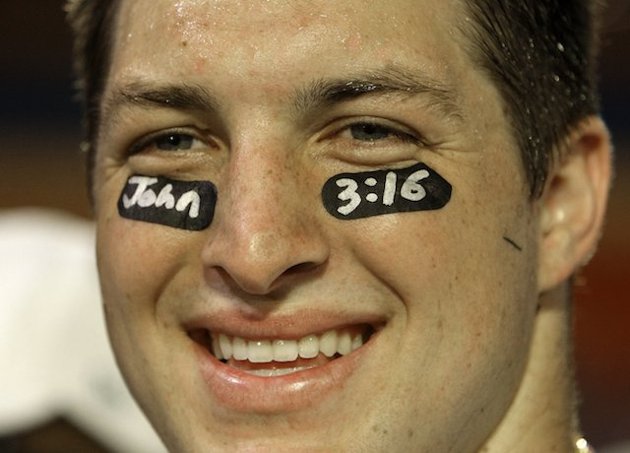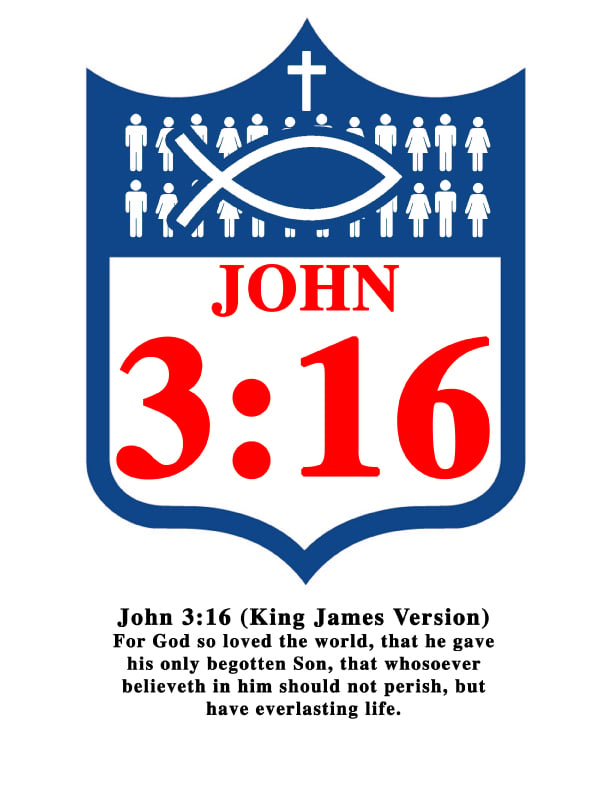 Watchwoman: The Denver Broncos (Tim Tebow's team) lost to the New England Patriots (Tom Brady had a record setting game as quarterback) 45 to 10, but maybe some of the lost souls watching might have been saved??? After all they heard the Word of God, John 3:16. Maybe the Holy Spirit sparked into their spirits a hunger and thirsting for THE WORD of GOD! Jesus words in John 6:63 KJV, "It is the spirit that quickeneth; the flesh profiteth nothing: the words that I speak unto you, they are spirit, and they are life." Nothing can save a man soul but the Word of God. Always, always, always preach the Word of God. I know this, the devil hated this commercial. If you didn't see it, watch it below and forward it to your friends. To God be the glory! Amen? Amen!!! (See below the explanation from Focus on the Family who sponsored the John 3:16 commercial.) Enjoy the short video! Be blessed. ▬ Donna Calvin
________________________________________________________
Tim Tebow Related posts:
Inspirational Question? Why is public prayer okay and this public prayer condemned?
http://blog.beliefnet.com/watchwomanonthewall/?p=11161

45 MILLION VIEWERS WATCH TEBOW GAME; MOST FOR OPENING PLAYOFF SINCE '88
http://blog.beliefnet.com/watchwomanonthewall/?p=11269
Tim Tebow Throws for 316 Yards, Matching Bible Verse 'John 3:16,' Leading to Mass Hysteria
http://blog.beliefnet.com/watchwomanonthewall/?p=11310
John 3:16 commercial aired on Broncos vs. Patriots game Saturday, Jan 14, 2012
http://blog.beliefnet.com/watchwomanonthewall/?p=11457
"Pam's Story" PLUS; Former Tim Tebow Pro-Life TV Spot
http://blog.beliefnet.com/watchwomanonthewall/?p=11491
___________________________________________________________
Jan. 14, 2011
Focus on the Family Airs National TV Commercial During Tonight's Broncos-Patriots Playoff Game

Colorado Springs, Colo. — Focus on the Family got back on the gridiron tonight with a 30-second commercial aired during the AFC Divisional playoff game between the Denver Broncos and the New England Patriots.

The spot, featuring children reciting the Bible verse John 3:16, has one simple purpose, according to Focus on the Family President Jim Daly: to share with the game's national TV audience the meaning of the Scripture that has been the No. 1 Internet search term over the last week.

"There's been a lot of buzz lately about what John 3:16 says, and we wanted to help people understand it without having to run to their computer to look it up," Daly said. "For Christians, the verse is the essence of the Good News of Jesus Christ, and when you have good news you want to share it with as many people as possible.

"We hope this helps everyone understand some numbers are more important than the ones on the scoreboard."

It was Focus on the Family, of course, that was behind a 2010 Super Bowl XLIV ad that became the most talked-about Super Bowl commercial in a generation. That spot featured Tim Tebow — now the Broncos' starting quarterback — and his mother, Pam, sharing a heart-warming story about their pro-life convictions. Interestingly, it was Tebow's performance in his first-ever playoff game last week — passing for 316 yards —that sparked the worldwide interest in John 3:16.

The funding for tonight's spot, like the money for the Super Bowl ad, was specifically donated to the project and not taken from the organization's general fund.

While Focus on the Family is perhaps best known for fulfilling its mission to help families thrive by helping couples strengthen their marriages, raise happy, healthy kids and engage the culture with biblical truth, Daly said the ministry's overriding aim is to share the Gospel of Christ.

"Offering family advice is not enough," he noted. "To make a real difference, we have to introduce people to the Author of family."

As part of its John 3:16 ad campaign, the group's website — www.FocusOnTheFamily.com — offers a wealth of resources for men and women interested in developing a deeper relationship with God. Among the inspirational and educational content that can be found there is a free episode of the award-winning children's audio series Adventures in Odyssey; a radio broadcast featuring the Christian testimony of former Major League Baseball pitcher Frank Pastore; and the opportunity for visitors to chat live with a member of Focus on the Family's Customer Care staff. The full ad aired during tonight's game is also downloadable and shareable from the Web site.

Additional information, including details of a special John 3:16 contest, can be found on the organization's Facebook page: www.facebook.com/FocusOnTheFamily

For More Information
Watch the John 3:16 commercial.

About Focus on the Family
Reaching about 238 million people in more than 130 countries, Focus on the Family is a global Christian ministry that helps families thrive. We provide help and resources for couples to build healthy marriages that reflect God's design, and for parents to raise their children according to morals and values grounded in biblical principles. Visit Focus online at www.focusonthefamily.com.