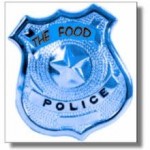 Watchwoman: The White House Food Police are on Patrol! "Just Say No to Fries" is not an option for kids. Kids automatically do not get fries and cannot order them. Only an adult accompanying the bullied children can tell the waitress to bring fries to the kids. I've included FYI – why Michele is the $10 million dollar first lady. (See below) ▬ Donna Calvin
Michelle Obama to join Olive Garden announcement
By Associated Press
WASHINGTON — Encouraged by Michelle Obama's campaign to reduce childhood obesity, the company that owns the Olive Garden, Red Lobster and four other popular restaurant chains is pledging to cut the calories and sodium in its meals and overhaul its kids' fare.
Darden Restaurants Inc. was unveiling the changes Thursday, with the first lady on hand to lend support.
The company will pledge to reduce the calories and sodium in all its meals by 10 percent over five years, and by 20 percent over 10 years. For children, French fries and sugar-sweetened beverages will become the exception and not the rule.
All kids' meals will automatically come with a side of fruit or vegetables and eight ounces of 1 percent milk unless an adult requests a substitute, Drew Madsen, president and chief operating officer of Orlando, Fla.-based Darden, told The Associated Press.
Read more: http://www.bostonherald.com/business/general/view.bg?articleid=1366055&srvc=rss
Why is MO is referred to as the "$10 Million Dollar First Lady"? See previous related posts:
• Mark Levin: Michelle and Barack Obama 'power hungry,' 'arrogant' – http://blog.beliefnet.com/watchwomanonthewall/?p=6695

• Lawsuit Seeks Costs of Michelle's South Africa Trip – http://blog.beliefnet.com/watchwomanonthewall/?p=6626

• What some are saying about $50,000 a day Obamacation… – http://blog.beliefnet.com/watchwomanonthewall/?p=6301

• Obamas Fly 'His & Her' Jets to Lux Vacay… – http://blog.beliefnet.com/watchwomanonthewall/?p=6307
• Michele Obama Demand$ Expen$ive ma$$ages, top $helf vodka and five-$tar hotel$: $pend$ $10m in public money – http://blog.beliefnet.com/watchwomanonthewall/?p=6530