Sources: NewsMax, Christian Coalition and CHPA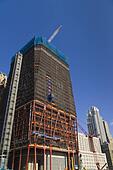 Christian groups were outraged Wednesday to learn that New York Mayor Michael Bloomberg is excluding religion from the 10th anniversary ceremony commemorating the terrorist attacks at the World Trade Center. "This is America, and to have a memorial service where there's no prayer, this appears to be insanity to me," former Deputy Mayor Rudy Washington told a reporter. "I feel like America has lost its way."
– Father, we humble ourselves before You and cry out for a spirit of repentance across America. To remove You from the ceremony commemorating 9-11-01 brings grief to our hearts. We ask that You visit Mayor Bloomberg in the night seasons and show him the error of his ways.
– "My bones are pierced in me in the night season; and my sinews take no rest."
(Job 30:17)
Source of excerpt: The Daily Brief, Thursday, August 25, 2011, from: Capitol Hill Prayer Partners, P.O. Box 5152, Herndon, VA 20172-1970, email: chpp@patriot.net
"And behold, I am coming quickly, and My reward is with Me, to give to every one according to his work." (Rev. 22:12)
:~: :~: :~: :~: :~: :~: :~:
Item #2 – Source: Christian Coalition <newsletters@cc.org> August 26, 2011, http://www.cc.org
NY Mayor Bans Faith Leaders from 9/11 Ceremony
Posted: 25 Aug 2011 06:33 AM PDT
New York Mayor Michael Bloomberg is under fire for excluding spiritual leaders from the upcoming memorial service commemorating the 10th anniversary of 9/11.
The Wall Street Journal reports that New York City Council member Fernando Cabrera, a pastor in the Bronx, was shocked by the mayor's decision.
"When you have a situation where people are trying to find meaning, where something is bigger than them, when you have a crisis of this level, they often look to the clergy," Cabrera said. read more »
See Other Related Posts at Watchwoman on the Wall blog:
Help the ACLJ Convince Bloomberg to have Prayer at 9-11 Memorial
http://blog.beliefnet.com/watchwomanonthewall/?p=7092

Rose (of Quinn & Rose) talks with Jay Sekulow (no prayer at 9/11 in NY)
http://blog.beliefnet.com/watchwomanonthewall/?p=7141