HAPPY BIRTHDAY TO THE KING JAMES BIBLE – May 2, 1611 – 2011 and still going strong!
The King James Bible is still going strong at the age of 400 years old because it is the only version that most bona fide Christians trust. "The rest are not "versions," says Pastor Ernie Sanders of Doers of the Word New Testament Baptist Church, "they are perversions." See Pastor Sanders' Web Site at http://www.WRWL.org ▬ Donna Calvin, The Word Warriorette
King James Bible still going strong at age 400
By ROBERT BARR – Associated Press | AP – Sun, May 1, 2011
Every Sunday, the majestic cadences of the King James Bible resound in Her Majesty's Chapel Royal in London, in scattered parish churches in Britain and in countless chapels, halls and congregations around the world.
Still a best-seller, the King James Bible is being celebrated on its 400th anniversary as a religious and literary landmark and formative linguistic and cultural influence on the English-speaking world.
You don't have to be a believer to appreciate it. When Britain's most famous atheist, the evolutionary biologist Richard Dawkins, read a chapter from the Book of Ruth for a YouTube Bible project, he said "It is important that religion should not be allowed to hijack this cultural resource."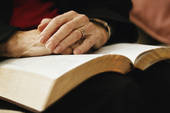 Says British academic Gordon Campbell: "Other translations may engage the mind, but the King James Version is the Bible of the heart."
What did King James have to do with it?
James VI of Scotland, who also became King James I of England in 1603, took a keen interest in religion. James, in the estimation of historian Christopher Hill, was "a learned man, shrewd and pedantic rather than original."
James summoned a conference at Hampton Court Palace near London in 1604, hoping to thrash out differences between Church of England bishops and Puritans.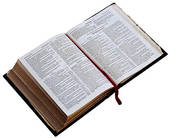 The great work began.
The translation — the Old Testament from Hebrew, the New Testament from Greek — was assembled by 47 translators in six committees working in London, Oxford and Cambridge, and it emerged seven years later at a propitious moment.
The date in 1611 when the first edition emerged from the press is uncertain — many celebrate anniversary on May 2 — but it was a turning point. The King's Printers had a monopoly on printing Bibles, and by 1650 the King James Version had driven the rival Geneva Bible out of the market.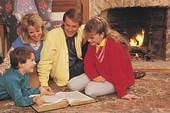 Tyndale rendered Scripture in the common language of his time, aiming to make it accessible even to a humble plowboy. His version was based not on the Vulgate, the Latin translation which had been the standard for Roman Catholics, but on Hebrew and Greek manuscripts.
For the complete story go to: http://www.signonsandiego.com
Please do me a huge favor?
○ Click "LIKE" at the top of this article.
○ Forward this by clicking the little envelope below "Email this"
○ Leave a comment.
Thanks,
Donna Calvin
Click Here Take a Look at The Word Warriorette
↓↓↓↓↓↓↓↓↓↓↓↓↓↓↓↓↓↓↓↓↓↓↓↓↓↓↓↓↓↓↓↓↓↓↓↓↓↓↓↓↓↓↓↓↓↓↓↓↓↓↓↓↓↓↓↓↓↓↓↓↓↓↓↓↓↓↓↓↓↓↓↓↓↓↓↓↓↓↓↓↓
SEE RELATED WATCHWOMAN POSTS
↓↓↓↓↓↓↓↓↓↓↓↓↓↓↓↓↓↓↓↓↓↓↓↓↓↓↓↓↓↓↓↓↓↓↓↓↓↓↓↓↓↓↓↓↓↓↓↓↓↓↓↓↓↓↓↓↓↓↓↓↓↓↓↓↓↓↓↓↓↓↓↓↓↓↓↓↓↓↓↓↓
If the following links do not work, just copy and paste the link into your browser.
↓↓↓↓↓↓↓↓↓↓↓↓↓↓↓↓↓↓↓↓↓↓↓↓↓↓↓↓↓↓↓↓↓↓↓↓↓↓↓↓↓↓↓↓↓↓↓↓↓↓↓↓↓↓↓↓↓↓↓↓↓↓↓↓↓↓↓↓↓↓↓↓↓↓↓↓↓↓↓↓↓
~†~
Posted by Donna Calvin — Updated: Tuesday, May 1, 2012
~†~
Please share this Watchwoman post on your Facebook page, Linkedin, Google+1, Twitter to all your friends, Please click "Like", Share, and Leave Comments.
Visit Word Warriorette, a free Yahoo Group, and subscribe to be notified (one email a day) of new posts on Watchwoman.
http://groups.yahoo.com/group/WordWarriorette/
~†~
DISCLAIMER: Beliefnet puts paid advertisements on "Watchwoman on the Wall" blog site including some that would never be approved of by the King James Bible, Pastor Ernie Sanders of Doers of the Word Church, What's Right-What's Left Radio Ministry, the Voice of the Christian Resistance, Geauga County Right to Life and Donna Calvin. We at www.WRWL.org do not condone, endorse, adhere to, practice or believe in many of the topics and some of what other bloggers promote or their religions at Beliefnet. However, Mrs. Calvin has no control of what Beliefnet displays. She blogs at Beliefnet because she is in the missionary field ministering to true believers posting articles and commentaries informing pro-life, conservative Christians of recent anti-Christian acts and hostile legislation to God's Agenda and His Will for the world. Hopefully, unbelievers will read these along with the salvation message of Jesus Christ as written in the Gospel of John, Chapter 3, according to the King James Bible, and be saved. A missionary must go into the unbelievers' territory to reach them. Her mission is to Proclaim Warning to a Nation that has forgotten their Lord and Savior Jesus Christ, the only Truth, the Life, and the only Way to the One God the Father.
Read more: http://blog.beliefnet.com/watchwomanonthewall/?p=4928
~†~