Update: CLICK HERE – To see the proof I promised a comment I left at 9:46 PM 5/17/2011 (see below).
~~~
Click here too – You also might want to see how GE did not pay any income tax in 2010 on $14 billion in profits.
Excerpt from Center for the Defense of Free Enterprise Action Fund:
Dear Friend of Free Enterprise: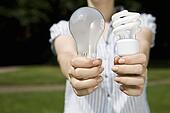 Four years ago—in 2007, the newly-installed Pelosi-Reid Democratic majority in Congress began implementing what is a global agenda to rid the world of the incandescent light. The 110th Congress' environmental agenda began with one piece of legislation that suggested the world's worst environmental polluter might have been a guy named Thomas Edison whose invention, the electric light–they claimed–causes global warming.
By outlawing incandescent lights in favor of compact fluorescent lighting, the environmentalists said the country would reduce energy consumption by $18 billion a year, or save consumers between $80 to $180 on their electric bills per year. The plus for the globalists? They said it would reduce global warming because one of the causes of global warming is…you guessed it…the old fashioned Tom Edison light bulb
Barack Obama wants to physically change the way you live—including the type of light bulbs that you use in your home. NEXT YEAR your light bulbs will be obsolete. You will be mandated by federal law to get rid of your existing light bulbs—all for the sake of the preventing, or minimizing global warming (even though scientists today are telling us we are entering into a solar cooling phase that will drop the average temperatures on Earth for the next 30 to 80 years).
C O P Y   OF   'S U G G E S T E D' LETTER TO  SNAIL MAIL, FAX AND/OR EMAIL TO SEND TO YOUR U.S. CONGRESSMAN
[TITLE] [FIRST NAME] [LAST NAME]

The Capitol

Dear [TITLE] [LAST NAME]

I do not appreciate the over-zealous environmentalists who are trying to change the way I have lived successfully for many years. The 100W light bulbs in my living room don't cause global warming.

The "sky-is-falling" federal bureaucracy does not have any business in dictating and demanding what light bulb I use in the privacy of my own home – particularly when the replacement to the incandescent light bulb has proven to be hazardous to the health of our families while the traditional incandescent light bulb has proven to be both safe and reliable for about 120 years.

I urge you — no, I actually insist – that you vote to REPEAL the Renewable Fuels, Consumer Protection and Energy Efficient Act of 2007 as a bad law that borders on rank "sky-is-falling" stupidity.

Please support S.395 and H.R. 6411.

Help put an end to too much governmental interference in my life.

Thank you for your time and your vote.

[YOUR NAME]

[ADDRESS][CITY]

[STATE] [ZIP]
Please contact your Member of our U.S. Congress in the U. S. House of Representatives to urge them to vote for the BULB Act and H.R. 6411, and U. S. Senators to support S.395 so our lives do not have to be run by federal bureaucrats or environmentalists in the privacy of our own homes. This is a fight that must be fought to save the free enterprise system from the "green energy" advocates who don't care if "green energy" costs a lot more "green" than cost-efficient, and safe lighting.
Sincerely,
Ron Arnold
Center for the Defense of Free Enterprise Action Fund
www.cdfe.org
WATCHWOMAN HINTS – Here's three (3) things to help you take action.
I found these 3 spots where we can Fax Free from our own computers.

No LD charges either. Click or type into your browser – http://faxzero.com/ (or) http://www.gotfreefax.com/ (or) http://www.myfax.com/free/
▬ Donna Calvin