For those of you keeping track at home, I usually run the Perfectly Human posts on Wednesday afternoons. But I'm posting Mica May's reflection about her son Jackson today because it is Jackson's second birthday! Happy Birthday Jackson!
my jackson.
this afternoon you wanted so badly to get up on the piano bench. you have always been content with standing up and straining to reach the keys, but something told me you were trying to tell me you NEEDED to get up on that bench.
so, i pulled it out, and stood behind you so you didn't fall . . .
and you took my breath away. words will never be able to capture that magical moment we had — the sunlight streaming through the window onto that little mohawk of yours, and you giving me the most glorious personal concert i've ever had.
i did not see a two-year old simply banging on the keys. this was Music. i have no doubt that you knew exactly which notes you wanted to hit — and even if you didn't, it didn't matter.
every now and then you would close your eyes and laugh and others moments you nearly fell off the bench because you couldn't help yourself from dancing at the same time.
i clapped, hooped and hollered for you all the while, which made your eyes sparkle in a way that can only come from pure and unhindered Joy.
it gave me a glimpse into the depths of your mind and inspired me about the person you are growing up to be. maybe you are the next musical genius waiting to be discovered!
when you were born, and we learned you had down syndrome, many people started talking about the potential limitations and obstacles that could be in your future. it seemed that everywhere we turned, there was The List of features, handicaps, or behavior expectations for a person with down syndrome. this frustrated me on a level so deep that . . . well let's just say i didn't have all positive thoughts towards those people who wrote those things.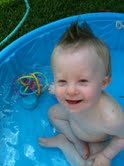 i felt as though someone delivered a "welcome home baby!" package complete with a cozy swaddle blanket, some adorable booties, and then they snuck in an index card with all the potential obstacles you might encounter.
i wonder what would have been on my index card if it was handed to my mom when i was one week old . . . perhaps something like, "Mica will be miserably bad at basic math, she won't make the cheerleading squad, she will have a 2.6 GPA from college, the list could go on. oh, how tempting it would be for my Mom to have put me in extra tutoring, extra tumbling, so maybe, just maybe, the limitations spoken about on my card wouldn't come true . . .
i believe that i am who i am today because my mom and everyone around me believed the best for me and never put any limitations on my abilities.
my jackson, i am and will always be your strongest advocate. your loudest cheerleader. your biggest fan. when you think you can't do something, i'll be right there to pick you back up to try again or to whisper in your ear to keep going.
and frankly, i'm on the edge of my seat just waiting to see what the Lord has in store for you. i have a feeling you might be the coolest hair stylist there ever was. or the next great piano composer, touring all over the world because everyone is in awe of your dancing fingers. your smile and charisma will dazzle the masses, i have no doubt.
wherever you go and whatever you do, i believe in you.
Mica May is the mother to Jackson (2 years old) and Madelyn (7 months old). She and her husband, Jonathan May, reside in Dallas, TX where she is the owner of May Books. (
www.maybooks.com
)