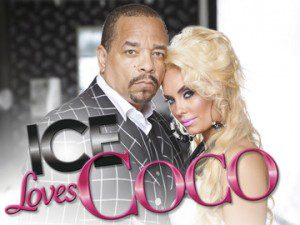 I love my wife, and my wife loves reality television. Generally I will play a video game or read a book while she watches the Kardashians, Say Yes to the Dress, and similar programs. Those shows aren't really my thing, I'm more of a Justified/South Park/ kind of fellow. Lately she has really gotten into Ice Loves Coco, and I've got a confession to make – I like Ice Loves Coco too. No! Don't click the "X" yet, hear me out!
The show follows rapper/Law and Order: SVU star Ice-T and his wife Coco, who, well I don't know what she has done besides get lots of plastic surgery. Having followed Ice-T's career I know he has overcome a number of inner demons to shed his negative image for a more positive, if not more wholesome, one. I respect that, and he is hilarious to boot. That is what got me watching the show instead of reading sci-fi or playing Contra, but I've kept watching because their relationship is fascinating, and more than that, their relationship is strong.
I was as surprised as you are, but seriously these two have the marriage thing figured out. While watching the show there isn't ever a doubt in my mind that these two absolutely strange people actually love each other. They communicate openly, they have an absolutely astonishing dedication to spending time together, and the show is full of examples of them making sacrifices for one another. It isn't always perfect, but what marriage is? Some parts of their situation are unrealistic for the average couple, such as Coco being able to spend all day on the set with Ice-T, but that makes the normal moments all the more endearing.
I hear a lot of people talk about how television is full of bad relationships, and mostly they are right, but I'd wager most of them haven't given Ice and Coco a chance. Behind all the glamour and oddity there is a truly sweet relationship on display, and it actually seems like people are tuning in to watch it!
You should give it a shot too, you might be just be as surprised as I was.