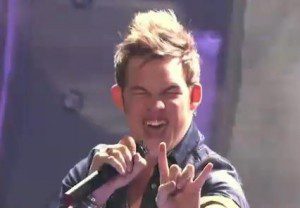 Tonight the number of Idol hopefuls dropped from 4 to 3, and the unfortunate soul to go home was James Durbin.  This was a shock to me, as I was sure that Haley was heading home tonight.  The list of unique voices left on the show has been dwindling since the exit of Paul McDonald, and with this exit Haley is the only one left who has something truly unique to offer.
James has been inspiring us at Beliefnet since his first performance, he has truly overcome great odds to get to this point on the show.  He hasn't always been my favorite singer on the show, but his positive interviews and great charisma have always impressed me.  I will forever remember James as the first Idol to have a flaming piano on stage, and the Idol who got Zakk Wylde to perform with him.  His performance of "Heavy Metal" is still one of the highlights of the season, mainly because he completely ignored Jimmy Iovine and went with his heart.  James never played the Idol game, and I have to respect that.
This is an especially bitter loss for James, as the final 3 get to experience the traditional Idol homecoming fest, but personally I hope that James still gets a homecoming party.  He deserves it.
Related – American Idol: The Top 4 Perform Inspirational Songs