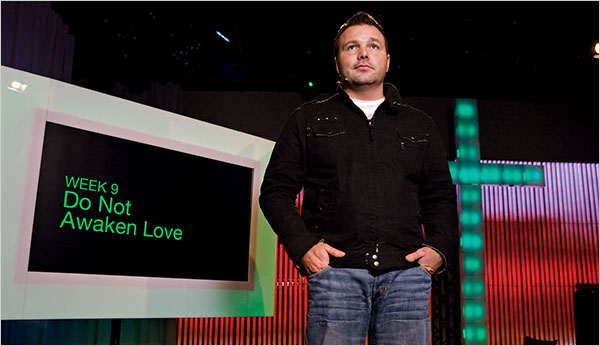 That's the apt headline over the New York Times Magazine's
profile of Seattle pastor Mark Driscoll.
Fascinating story, not least because there is so much
theology
in it–Molly Worthen does a commendable job of summarizing Driscoll's neo-Calvinism and capturing how a theology so severe can appeal to so many young people.
There is also much in her depiction of Driscoll to give pause, especially regarding the culture of testosterone at Mars Hill Church. Check out this bit about how Driscoll's bid for a hyper-masculine church culture plays out in the way he handles church governance:
Nowhere is the connection between Driscoll's hypermasculinity and his Calvinist theology clearer than in his refusal to tolerate opposition at Mars Hill. … In 2007, two elders protested a plan to reorganize the church that, according to critics, consolidated power in the hands of Driscoll and his closest aides. Driscoll told the congregation that he asked advice on how to handle stubborn subordinates from a "mixed martial artist and Ultimate Fighter, good guy" who attends Mars Hill. "His answer was brilliant," Driscoll reported. "He said, 'I break their nose.' " When one of the renegade elders refused to repent, the church leadership ordered members to shun him. One member complained on an online message board and instantly found his membership privileges suspended. "They are sinning through questioning," Driscoll preached. John Calvin couldn't have said it better himself.


This is incredibly, incredibly dangerous for Driscoll and his parishioners. If Driscoll's leadership model is predicated on the notion that his opinion is sacrosanct, the Mars Hill community is a crisis of one kind or another waiting to happen. Ted Haggard's New Life Church had the same problem; his leadership was overbearing, and most of us lost the ability to speak truth to power. Haggard lost the ability to hear truth when spoken. As everyone now knows, it was a recipe for disaster.