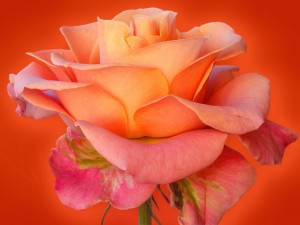 Two weeks ago my seemingly healthy brother-in-law was being  evaluated for pain in his back which he thought might be a ruptured  disc.  Instead, in a matter of days, he was being told that he has  pancreatic cancer.  He will be forever changed. Monday begins the  chemo that will hopefully shrink the tumor and prolong his life.  It's  going to be gruelling–
Then I found out today that a co-worker's cancer has returned after she  was told about a year ago that she was cancer free…
Dozens of people in Norway were killed this week for no other reason  than that someone couldn't get his own feelings and agenda out of his  mind and consciously decided to punish others for his misery.
Every day soldiers are dying, people receive diagnoses of death from their doctors, thousands of people die in Africa every week because of wars and starvation. There are earthquakes, tornadoes, hurricanes, tsunamis.
It doesn't make any sense, and you wonder why we go on struggling so hard to live out our lives, spending time on things that have no eternal significance.  What do we do when life doesn't make sense?
Why do people suffer?  It's one thing to know about someone who is evil who is suffering…we almost revel in that.  But when innocent children, good moral people and yes, even Christians suffer, it's much harder to understand…
If you came to this blog looking for a definitive answer as to why there is so much suffering in the world, that's something you'll have to ask God about for yourself.
I do know that God did not create a world that included suffering, but once sin entered the picture, no one could count on living a life that never included suffering.  He "causes the rain to fall on the just and the unjust", and suffering is not limited to sinful wicked people any more than blessings are limited to only good people.
"Good" people have inherited this flawed world and live in the midst of it.  Many seemingly good and innocent men, women and children have shared in the suffering that's a result of sin in the world.
We do, as Christians, have the promise of eternal life with God in a place where there will be no more pain, no sickness, no crying, no death.  Does that make our suffering less painful? Less tragic?  More logical?  Our physical pain here on this earth is just as severe as someone who is not a Christian.
The difference is the hope that we have because of our faith in Christ.  We know that this is not all there is. We know that God will ultimately be victorious in our lives and we will spend an eternity with Him, free of the frailty of our existence here.
The Psalmist addressed the issue of suffering many times and that's one of  the reasons the Psalms speak to us so profoundly thousands of years after God inspired their music. They show us that's it's alright to ask God "Why?" He understands when we cry out to Him from the depths of pain and despair.  I leave you with these verses from Psalm 13:
 How long, O Lord?  Will you forget me forever?  How long will you hide your face from me?                                                    How long must I take counsel in my soul and have sorrow in my heart all the day?         
 How long shall my enemy be exalted over me?   Consider and answer me, O Lord my God;                                                              light up my eyes, lest I sleep the sleep of death, lest my enemy say, "I have prevailed over him,"                                                    lest my foes rejoice because I am shaken.
But I have trusted in your steadfast love; my heart shall rejoice in your salvation.                                                                               I will sing to the Lord, because  he has dealt bountifully with me.