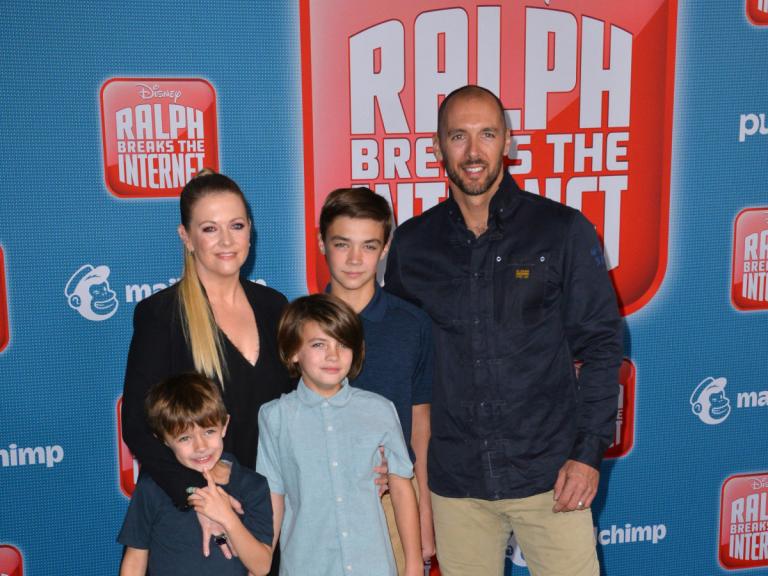 Actress Melissa Joan Hart recently shared a few of her secrets to keeping a successful marriage intact for 20 years. In July, the "Sabrina the Teenage Witch" star celebrated her 20th wedding anniversary with her husband, Mark Wilkerson.
While speaking with Fox News Digital at '90sCon, Hart joked that keeping up with the years she's been married in Tinseltown was much like counting in "dog years." She said, "Twenty years married in Hollywood years, that's like, you know, you count it like dog years. I guess we've had, like, 140 years of marriage in Hollywood years."
Wilkerson, the former lead singer of Course of Nature, and Hart met at the Kentucky Derby in 2002 and married in Italy in 2003. She said while 20 years of love and life isn't always an easy journey, they both committed to staying with each other for the ride. She said, "It's all just riding through the lows to get to the highs," Hart said. "You have to go through the valleys to enjoy the peaks. It's just making that commitment and sticking to it and trusting each other and giving each other grace, really."
Hart shared a snippet of their love story for Valentine's Day on Instagram in 2018. She wrote, "In 2002, a girl from New York told her mother she met a boy from Alabama at the Kentucky Derby that she was going to marry." She continued, "14 months later, they were married in Italy, and within 5 years, they had 2 bouncing beautiful baby boys while living a blessed life in Los Angeles. Ready for some seasons and a change of pace, they moved their brood to the East Coast, where they added a third boy to their loving family in 2012 and lived happily ever after!" The couple has three boys: Mason, 17, Braydon, 15, and Tucker, 10.
View this post on Instagram
The couple tied the knot in Florence, Italy, and had their wedding broadcast on the ABC Family miniseries "Tying the Knot." In a interview with Women's Day, Hart said, "The most memorable part of my wedding was during the vows. Mark was crying so hard, and we were supposed to put our heads down, but his nose had filled up! I had my grandmother's handkerchief in my cleavage, so while the priest was speaking, I reached into my dress, and everyone giggled. That was the only part of the day that didn't get caught on camera."
Three years after they walked down the aisle, Hart and the Course of Nature frontman became first-time parents when their son Mason arrived in January 2006. The twosome later welcomed sons Braden in March 2008 and Tucker in September 2012. When the couple started raising their family, they lived in Los Angeles as Hart worked on several TV projects in the late 2000s. They moved their family to Connecticut before welcoming their youngest son. In 2020, the duo ultimately decided to relocate the family to Nashville.
Three years after their move, Hart revealed she and Wilkerson's sons went to school close to where the March 2023 Nashville school shooting took place. While her boys were safe, the twosome assisted a group of elementary students as they evacuated during the tragedy.