"Rocky" star Sylvester Stallone sparks rumors of a reconciliation with his wife, Jennifer Flavin, amid their divorce. The rumor comes after Stallone posted a photo of him and his wife holding hands from behind and walking off into a sunset. Along with the photo of the seemingly happy couple, Stallone also added a family photo of himself, his wife and their three daughters Scarlet, 20, Sistine 24, and Sophia 25. He captioned the Instagram photos "Wonderful…" leaving fans wondering if the couple is back together.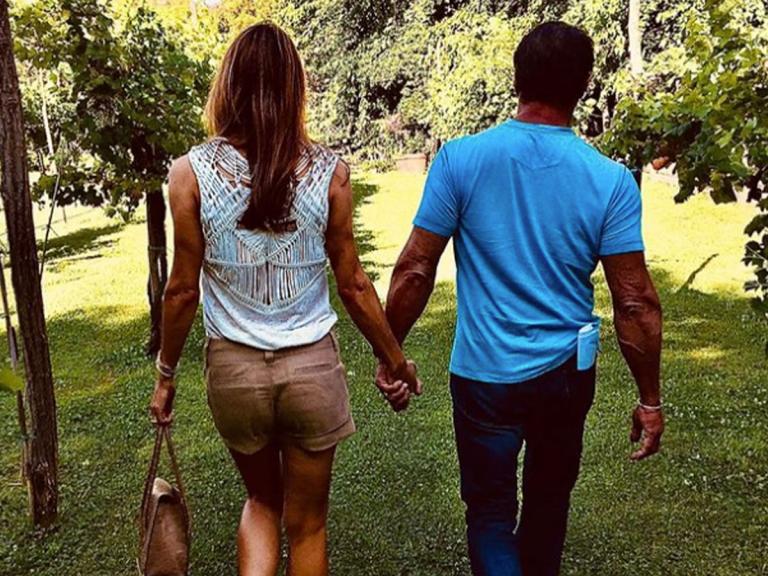 This comes just a month after the couple announced their divorce to the public on August 24th. The divorce comes after 25 years of marriage and nearly a 30 year long relationship. The original cause of divorce that was stated to the public was Flavin's accusations of Stallone intentionally mishandling their finances, which is something that Stallone has continuously denied. Fans began speculating that the pair may be on the rocks after Stallone covered up his tattoo portrait of Flavin. Now, instead of having a portrait of Flavin on his right bicep, he has a photo of his dog, "Butkus," who appeared alongside him in his famous movie "Rocky."
Just last month Flavin released a statement to People magazine regarding their divorce by saying, "I'm sad to announce that after 25 years of marriage I have filed for divorce from my husband Sylvester Stallone. While we will no longer be married, I will always cherish the more than 30-year relationship that we shared, and I know we are both committed to our beautiful daughters. I ask for privacy for our family as we amicably move forward." Following that statement, Stallone also released his own statement saying, "I love my family. We are amicably and privately addressing these personal issues."
After these official statements were released, the public was sure that the longtime couple had called a quits, but now they are not so sure. Neither Stallone nor Flavin have released statements regarding their possible reconciliation.