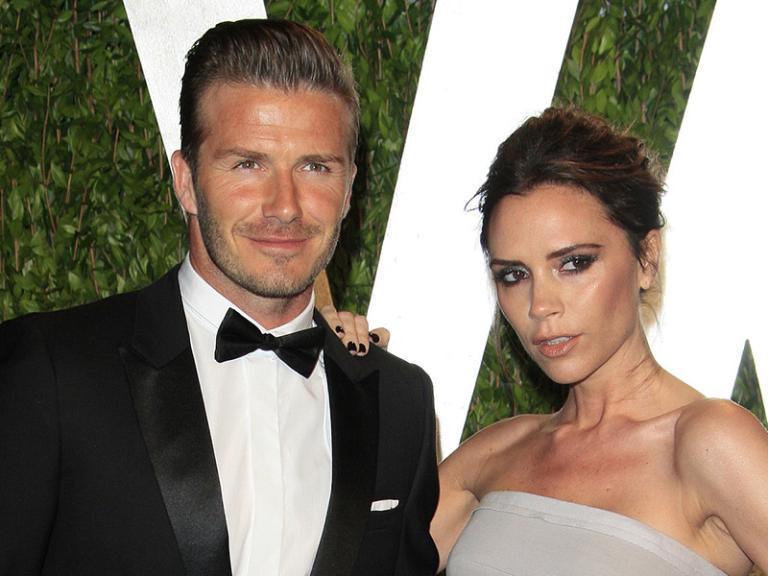 Looks like Victoria and David Beckham are having the last laugh against their haters. The two celebrated 23 years of marriage on Monday, with the former Spice Girl posting a throwback picture of the couple on Instagram. "They say he isn't funny, they say I never smile, they said it wouldn't last. Today we celebrate 23 years of being married. David you are my everything, I love you so much." David also commemorated the occasion with some throwback pictures, writing, "23 years ago today Posh became Mrs. Beckham, but she will always be Posh. Happy Anniversary WOW 23 years & 4 beautiful kiddies. I love you, we all love you." He also shared an interview from the 90s when the couple was interviewed by Sacha Baron Cohen as his character, Ali G.
In the interview, the two discussed how they met at a soccer game in 1997. David had actually seen Victoria some weeks before officially meeting her while at a hotel and remarking to a friend that he wanted to marry her. When he met her a few weeks later at a game, he missed the opportunity to ask for her number but had another chance a week later at another match. He asked for the pop singer's number, which she wrote on a plane ticket. David still has the ticket to this day. The two would marry two years later at a castle in Ireland exactly four months after the birth of their first son. True to Victoria's moniker as "Posh Spice," the wedding was extremely lavish with thrones for the couple and a tiara for Posh. 23 years later, the couple has 4 children: Brooklyn, Romeo, Cruz, and Harper.
Twenty-three years is a long time for any marriage, but especially for such a high-powered celebrity couple like the Beckhams. They have been involved in very high-profile events, such as when the family moved to LA for David's contract with the LA Galaxy and attending the wedding of Prince William and Kate Middleton. Yet the two have maintained a fairly down-to-earth home life, with Victoria sharing how she has banned her daughter, 10, from social media for fear of body shaming. She also shared her daughter's horror at her mom's Spice Girls fashion sense. In an article with The Independent, Victoria said, "She actually said to me recently, 'Mummy, I've seen some pictures of you when you were in the Spice Girls and your skirts were just unacceptable. They were just too short'. Then David piped up and said, 'Absolutely Harper! They really, really were.' And she was actually quite disgusted at how short my skirts were." In an interview with the Daily Mail, when asked for marriage advice, Victoria said, "We support each other in everything that we do. But it's about having fun, enjoying that person's company, I genuinely love being with him." With 23 years under their belt and hopefully many more to come, it seems like apt advice.