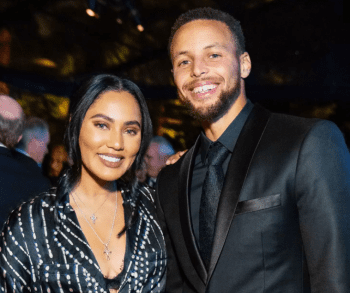 Steph Curry found a clever way to defend his wife Ayesha after a Boston bar publicly criticized her culinary skills.
The bar located outside of Fenway Park had written on a sign, "Ayesha Curry can't cook," and the jab quickly made its way to the Curry's. The bar also had another jab on the backside of the board that read the Celtics player Jayson Tatum's four-year-old son was better than the Curry's oldest daughter, Riley Curry.
If you follow Ayesha Curry, you know she has made cooking a central part of her brand. She has released cookbooks, opened restaurants, and starred in a Food Network show. Ayesha's barbecue chain is expanding and doing quite well with locations in Houston, Miami and San Francisco.
So why all the hate?
It comes down to fan loyalty. Ayesha's husband is a point guard for the Golden State Warriors and was yelling at Celtics fans during a game. Curry has said he enjoys the banter and trolling with fans and knows it comes down to the love and passion fans have for their city.
"I'm the petty king, so I know all about everything. I use it as entertainment and just have fun with it." He said.
So after Game 5, curry strolled into his postgame press conference rocking a gray t-shirt that read "Ayesha Curry CAN cook."
Steph's "Ayesha Curry can cook" tee is a legendary clap back to a Boston restaurant who said the contrary.

Steph really does see everything ?? pic.twitter.com/Q14jYuadi9

— Blue Wire (@bluewirepods) June 14, 2022

A reporter asked Curry what his shirt meant, and he responded coyly. "You gotta ask around the room and ask Twitter what it means."
The bar, Game On, quickly noticed Curry's response and came back again with another jab.
The bar posted a photo on Instagram with employees wearing green Celtics T-shirts that said "Ayesha Curry can't cook," standing next to a new sign. The new jab, "Steph saying his wife can cook, is like your mother telling you you're HANDSOME."
View this post on Instagram
The Currys have been married for over a decade, so there's no doubt Steph will come back with likely an even better response to the latest restaurant dig, considering the Warriors just dominated the Celtics in the last three games of the NBA finals. It was the first time the Celtics experienced a three-game losing streak since December.
The high school sweethearts have continued to make headlines for defending each other from trolls over the years, and we can expect it to continue.
A few years back, Steph took to Instagram to defend his wife after online commenters criticized Ayesha for her own decision to dye her hair blond, which she later revealed was just a wig.
"You beautiful baby. And don't you let anybody tell you differently ok? I mean it," the basketball pro wrote via Instagram in October 2020. "There's just a bunch of meanies out there, and I don't like it. I don't like it one bit. Do you boo boo."
The Currys lead by example, and we should all be so fortunate to have someone rooting in our corner as they do for each other.