Everything we see and hear on the news tells us what a bad place we are in.  The unemployment rate is up, the job possibilities are down, more people need food stamps and other financial assistance.  Life is horrible and we can find fun nowhere.  We have thousands of people on unemployment and many that's benefits have run out.  The price of food and gas are up because of world situations and the country wide draught.  All is doom and gloom.
But, wait, I found a happy place in the midst of all this.  Jesus is the ultimate happy place and God's creation can lift even a downtrodden heart.  So, let's all go to the beach!  Let the sunshine(Sonshine) warm our bodies and spirits.  Let's let the sand run through our toes and watch the clouds float by.  You can go to the beach for free and come back with a wealth of new perspective.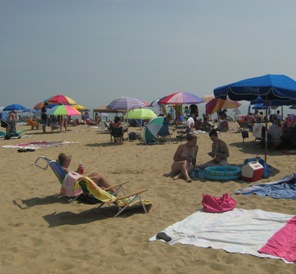 We recently went to Rehoboth Beach in DE and had a ball.  We had other reasons for our travel, so this was just a little "pick me up".  There were thousands of people on the beach and the shoreline hotels were full.  We saw runners, bikers, golf cart travelers, and people just sitting around watching everyone else having fun.  We sat on a shady bench for quite awhile and met several other tourists.  They didn't know we weren't spending much money that day, and they didn't care how much they were spending.  This was their vacation.  Their get-a-way from the harsh realities of their lives back home.
The shops on the boardwalk were packed with people buying all kinds of things from shells to souvenirs.  I know you can spend a bundle when you try to bring something home for everyone.  The food was fantastic, boardwalk fries funnel cakes, ice cream, pizza, and so much more.  My weakness was Dolly's salt water taffy.  I must confess I did spend too much money there.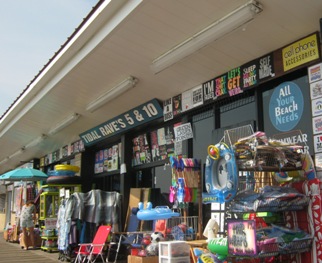 My point is you can have fun without spending lots of money.  And sometimes you need to spend a little money to maintain your sanity in these stressful times.  I don't think God minds if you have a vacation, as long as you are not taking His money to do it. Keep your eyes on Jesus and He will show a place of peace and restoration, whether it be a the beach or in the quiet of your home.  Just listen to Him and all will be well.