I often plug products that I've found beneficial, especially in the ministry of The Special Gathering, a ministry within the mentally challenged community. The Christmas musical, A Stranger in the Manger, is a well-written and joy-filled musical that becomes an excellent presentation. Uplifting and fun songs make the music sparkle. However, the ballad, "This is Such a Strange Way to Save the World," is touching enough to leave half of the audience in tears.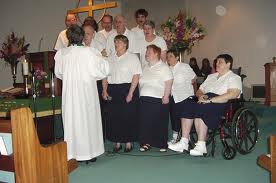 The musical is written for children; but it is easily adapted for the disability community, especially for the mentally challenged population. While the words and music may be more difficult than anything you have tried, it is easy to learn because everyone loves the music enough to work hard. With children, you can suppliment the recorded voices. However, with a choir of intellectually disabled adults, you will need to leave out the extra voices recorded because the children's voices will not blend with an adult choir.
Arrangers Johnathan Crumpton and Sue Smith have done an excellent job in translating the gospel story of Jesus' birth into a fun, teaching experience set to music.