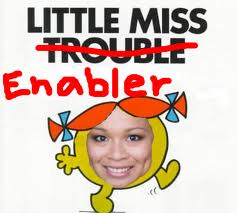 Because of unusual circumstances a good friend of mine was recently called "an enabler."  Of course, I've known I am an enabler and I've recognized it for years.  I believe that the stem of enabling is a super-large ego that actually believes that my actions will heal all things in your life.  There can even be a big mixture of a Messiah complex that says that without me, you will not survive.
However, in the mix of that is the person who truly needs our help.  Whenever I am ready to judge another person for enabling their children, grandchildren, wife or husband, I think of my friend Eleanor.  She was a wonderful Christian teacher whose children had grown up, married, struggled immensely but became successful.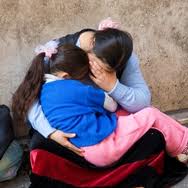 Eleanor would constantly speak to the members of her Bible study class about enabling their children who were not succeeding.  These women had come to the Lord at a later age and their children had paid the price of their ungodly, wild lifestyles.  The children were undisciplined and unable to remain off the Mommy Dole.  Eleanor counseled her students to use tough love with their children and grandchildren, allowing them to learn from their mistakes.  "Don't let your children move back home," Eleanor would lecture.  "You are only hindering their spiritual growth.  I don't care if their husbands have left them and their children are hungry, they won't grow unless you stop bailing them out of every tough situation."
Then the unthinkable happened. Eleanor's son-in-law came home one day and told his wife that he was leaving her and the children because he had fallen in love with his secretary.  The son-in-law was the pastor of a large church.  Therefore, he was also leaving his church, taking a salesman's job.  Of course, he would not be supporting her and the children.  They had to move from their home, the parsonage.  Within a week, her daughter and three grandchildren were broke, homeless and fatherless.
Without any thought of right or wrong, the daughter and children moved back home with her parents.  The members of the Bible study called, "Foul."  They went to Eleanor asking the obvious questions.  Of course, Eleanor announced that her situation as unique.  Her daughter was the wounded party, and her grandchildren were special.
When the Bible study members came to me asking my opinion, I had to take Eleanor's side.  "What would you do?" I asked.  What Eleanor had taught, lectured and placed on the back of others did not negate the fact that her desperate daughter needed help.
From that day, I realized that enabling is in the eye of the beholder.  When it's my hungry grandchildren…  When it's my wounded adult child…
Yesterday my close friend who had been called an enabler visited me. "What should I do?" she asked.  I told her the story of Eleanor and confessed, "I have no idea."
Then I remembered the great blessings God has poured on my friend, The Enabler.  She lives on basically nothing but she lives like a "rich man."  God blesses what she has to the extreme.  I realized that whatever she is doing with the dependent people doesn't seem to bother God.  He is pouring out material and spiritual blessings on her by the truck load.
At times, there are no answers to the why's and wherefore's of God's grace.  Opening your home to family may not be the way God wants to deal with an errant young person.  Yet, it could be exactly what God is desiring to do for them.  Enablers must be constantly on the alert to be sure that we are enpowering–not hindering.  However, we cannot close our hearts to hear what God is saying, either.
Working with people who's children are developmentally disabled has been an eye-opening experience for me.  What a tricky path professionals, caregivers and parents walk between promoting a person's independent skills and talents while allowing them to grow up whole and holy.
There are no easy answers; but I truly believe that God will give each of us the answers that will help us to truly follow Him. At times, it may mean using tough love.  But it could also mean enfolding a loved one into our families and providing whatever is needed.  There doesn't seem to any pat answers when it's our children.  Perhaps God has designed life that way to keep us on our knees, dependent on him.