Can you imagine that I would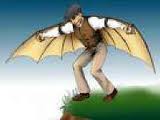 believe that I could fly to the moon by flapping my arms? What if I really, really believed? Would that make it true?
I had an interesting conversation about the Bible the other day with a young lady. She laughed at me and said, "You don't understand. I don't believe the Bible is true." For her the conversation had ended. This silly little lady believed that because she did not believe the Bible, then it was not true. Whether we believe the Bible or even understand it, the Bible is true and our opinion has absolutely no effect of it's truthfulness.
My believing that God's word is true doesn't make it true. BUT I believe it is truthful because it is true.
Jeremiah 36 tells the interesting story of the interaction between Jeremiah and King Jehoiakim. While this interplay happened more than 400 years before Christ was born, it has interesting implications in our lives today.
Jeremiah had written a book filled with sermons and prophesies. It was a crisis time for the nation of Judea and God, through Jeremiah, was foretelling the destruction of Jerusalem and the nation. The book had reached the highest station in the land, King Jehoiakim's private chambers. King Jehoiakim decided to not believe that God's word is true. To prove his point, he burned the book. As he read the book, he cut one page at a time and threw it into the fire.
God wasn't disturbed even a speck. He said, "Fine; but I am going to punish you, Jehoiakim, anyway."
Often we think we can play games with God. We think we can distract him from what He plans for our lives. We think we can get God interested in other people. At times, we act as if we misunderstand what God is saying to us. Or we do as Jehoiakim did, we try to ignore God.
Sadly, Jehoiakim learned that he could not ignore God. God word is true. Therefore, we, also, cannot ignore what God says.
Some years ago, a man did some things that were really harmful to me and my family. God plainly spoke to me that I must forgive him. I thought that I could ignore what God told me to do. The person really did bad things to me. I thought I could hold resentment; and it would protect me from being hurt again. I was angry and I could not understand why I had to forgive the person. For a time, I felt that maybe I had not heard from the Lord.
However, I can't ignore what God says even if I don't believe it. I had to forgive the person.
It is vital to understand that God's word is true; and if we don't believe it, we only get into trouble. Not believing does not change God's word or his purpose and plan for our lives.