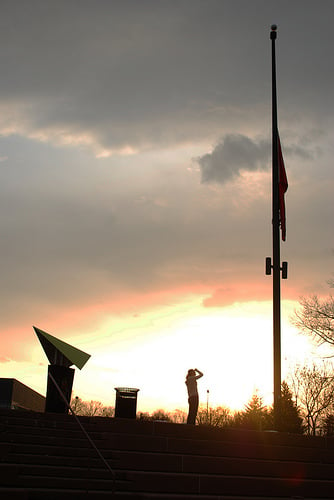 Memorial Day is the last day of The Special Gathering's annual camping experience called Camp Agape. Each year we take more than 200 people to a camp ground for four-days of fun and fellowship.  We return Memorial Day and those of us who have served as staff are totally and completely exhausted.  Our members are mentally challenged and most of them have a secondary physical disability.  As uplifting as this adventure into our cloistered sub-culture may be, it is also filled with mental stress and bodily exertion.
As a result for the last 24 years, Memorial Day has been a day observed but not a day of remembering.  Nevertheless, as the years of war have grown into almost a decade, I am more deeply aware of what these young men and women have given to us.  My heart is moved remembering the sacrifice of our youngest and best adults.
I am blessed to be old enough to remember the Korean War and the resolves made after World War II.  Again and again, we were told by our elders, "We must never again let tyranny and oppression threaten the world with destruction."  It is the result of the horrible lessons learned during war that we weep at the horrors of battle but continue to send our young adults marching into the face of the unknown.

We pray for peace in the world.  However, we remember the history of the world.  Therefore, we are eternally grateful for the freedom we enjoy.  I always thank God when I read the slogan of a bumper sticker of a rusty and battered truck, "Freedom is not free."