Happy Derby Day. Sit down right now and read Walker Percy's essay about Bourbon. I'm a Southerner, so trust me on this: the mint julep recipe Cud'n Walker provides is the best one ever. The dusting of nutmeg is the secret ingredient, but it's also vital to crush the ice. I wouldn't have guessed that, but boy, does it ever make a difference. You're welcome: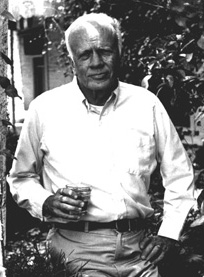 You need excellent bourbon whiskey; rye or Scotch will not do. Put half an inch of sugar in the bottom of the glass and merely dampen it with water. Next, very quickly–and here is the trick in the procedure–crush your ice, actually powder it–preferably in a towel with a wooden mallet, so quickly that it remains dry, and, slipping two sprigs of fresh mint against the inside of the glass, cram the ice in right to the brim, packing it with your hand. Finally, fill the glass, which apparently has no room left for anything else, with bourbon, the older the better, and grate a bit of nutmeg on the top. The glass will frost immediately. Then settle back in your chair for half an hour of cumulative bliss.
Dadgum, it's not even 11 a.m. here on the East Coast, and I want me one of them things.