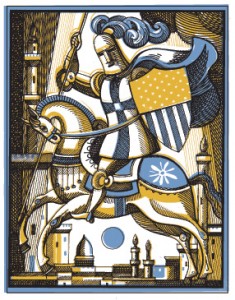 The latest issue of Religion in the News is now online, with a veritable cornucopia of piquant pemmican. The cover story is Andrew Walsh's definitive recapitulation of the past year's Islamophobic extravaganza, accompanied by an excursus on America as Christian Nation. And for the word on Shariphobia, check out Marc D. Stern's examination of what happened in last fall in Oklahoma.
Your editor
weighs in
with a review of Pope Benedict's Big Condom Blow-out, and together with John Green
takes the latest measure
of the God Gap. Also in the political mode is
a portrait
of Christine O'Donnell's 15 minutes of would-be senatorial fame, wherein Shannon Smith shows how the un-witch was like other recent GOP headliners. Anthea Butler then
traces
the fall from grace of Bishop Eddie Long, while Ronald Kiener
tells
the disgraceful tale of the ultra-orthodox promotion of anti-gentile discrimination in Israel. The Dead Sea Scrolls strike again, as James Davila
recounts
the Golb Affair. Finally, Daniel Morgan
ponders
how Atheist Avatar Christopher Hitchens became the object of intercessory prayer. Knock yourselves out!