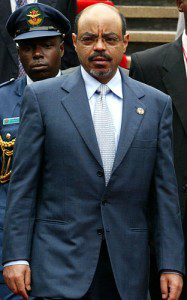 Today is was reported that the Ethiopian Prime Minister, Meles Zenawi, has died. With an American presidential election, you might miss this news unless you are tuned into to what's happening in Africa.
One of Ethioipa's national leaders is gone. Our friends in Ethiopia are praying for a smooth transition. This morning we received this note from our Ethiopia Country Director, Tesfa:
I was heartbroken by this sad news. We will never forget his great leadership, dedication and commitment to bring dramatic change in Ethiopia and in Africa in general. I would ask you all to pray in this very critical time of leadership transition.
Please join them in praying for the leadership of Ethiopia.
From the NY Times: A former rebel leader who had dropped out of medical school in the 1970s to fight Ethiopia's former Communist government, Mr. Meles was considered one of Africa's shrewdest and most intelligent leaders. He was known to be a voracious reader with a steel-trap mind who could rapidly digest mountains of statistics and quote large chunks of Shakespeare. He worked closely with Washington to combat Muslim extremism in the Horn of Africa, though there were growing complaints, even among his backers, about his penchant for violently quashing any dissent.