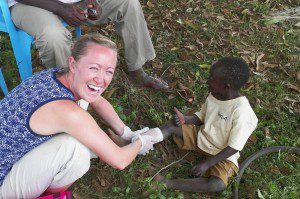 This week, a group of volunteers from "The Orphans of Teso" are visiting their two CarePoints in Uganda.
To get a glimpse of what they're doing, their leaders are posting a day-by-day journal of activities. Here are some highlights:
The New Well is Now Flowing: Americans and Ugandans celebrated the new well, which included the formation of the "well committee." That committee is made up entirely of Ugandans who will set small but fair usage rates for the community. Funds generated by the well go into a maintenance fund to keep the well in working order.
Hope for Widows, Orphans and Vulnerable Children: They visited children in their homes, checking in on their progress since their last visit.
Pictures for Sponsors. Over 4 hours were spent taking pictures of kids at the CarePoint for sponsors and sponsors-to-be.
Reading through their blog posts will give you much more detail, photo, and video of their trip. Please check out their trip blog, and consider how you can sponsor one of the children at the Bukedea CarePoint.