Children's HopeChest employees create support fund for co-worker who lost house in Waldo Canyon Fire.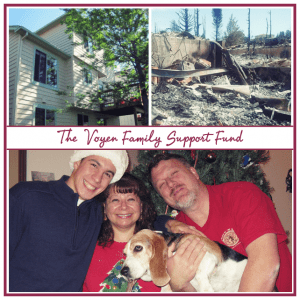 Last week, the Waldo Canyon Fire ripped through the Mountain Shadows neighborhood of Colorado Springs, destroying at least 346 homes. One of those houses belonged to my friend and co-worker, Steve Voyen. Steve is the Program Director for Children's HopeChest, and oversees orphan care ministry to over 12,000 children in 9 countries.
During the fire, Steve posted this on Facebook:
Praying for all those working to stop the fire! It is quite possible that we no longer have a house. But Miriam, Grant and Daisy are safe, and for me, that is all the "home" I'll ever need. And God will still be a good God!
In the aftermath of the loss of their house, the employees of Children's HopeChest have established the Voyen Family Support Fund to receive donations. The Voyen's have lost everything that was in their house.
As Steve's co-workers we want to do everything possible to help his family.
We've asked ourselves what we would do if we were in the Voyen's situation. If our houses were burned up and all of our possessions lost, what would we do? And what would our friends do? This is our small way of showing Steve and his family that we are with them as they rebuild and restore what the fire took.
We invite you to join us in helping our friend Steve with a gift.
This fund is not controlled by Children's HopeChest, it is being administered by the employees of HopeChest and any gifts are NOT tax deductible. As his co-workers, we're inviting you to "chip in" with us to help them get back on their feet.
If you have any concerns about the validity of this request, please contact our office directly at 719 487 7800 to talk to any one of our employees who can vouch for the authenticity of this request. You can see our entire team here.
To contribute online via PayPal:
Online donations will go through the PayPal account of one of our employees and then directly to the Voyen Family Support Fund. This is the most practical way for us to receive online gifts.
If you would prefer to contribute by mail, you can make a check out to Voyen Family Support Fund and mail it to: Voyen Family Support Fund, c/o Children's HopeChest, PO Box 63842, Colorado Springs, CO 80962.
Pictures of the Voyen's house after the fire: