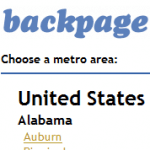 "A private equity fund run by Goldman Sachs Group Inc (GS.N) has agreed to sell its stake in the media company that runs a sex trafficking forum back to company's management, a spokeswoman said on Sunday." (from the Reuters report).
Since craigslist shut down their online personal ads, there's one big player left in the online "personal ads" space: Backpage.com.
Backpage.com, owned by Village Voice Media, is estimated to run close to 70% of all online prostitution ads.
According to the AIM Group, Backpage.com "generated at least $2.6 million from the sale of online ads for prostitution and body rubs in 23 U.S. cities."
Despite the craigslist to decision to stop ads tied to trafficking, Backpage has consistently refused to shut down their online personal ads and escort placements. This is in the face of:
19 U.S. Senators asking the company to remove the adult services section from Backpage.com
Over 222,000 signatures on a Change.org petition. (Sign the petition here).
Pressure from 51 Attorneys General, dozens of anti-trafficking organizations, hundreds of clergy from across the religious spectrum.
But what if you found out that your IRA or 401(k) had actually invested in Village Voice Media? Thanks to Nicholas Kristof of the NY Times, it came to light that a private fund of Goldman Sachs had done just that.
After this came to light, Goldman moved quickly to dump the investment.
However, they held a 16-percent minority stake in Backpage for several years–and through the entire controversy and firestorm about ads being linked to trafficking.
Although they claim they are selling the investment at a loss, it sure does have the appearance that they are doing the right thing only after being caught. Kristof is fair to Goldman. But the point still stands that many times we don't have the transparency or knowledge to know if our investment in a company like Goldman Sachs is trickling down to funding a company connected to the trafficking of minors.
Kristof's column is a worthy read, and ends by saying:
There are no easy solutions to sex trafficking. I think the most important single step is for prosecutors to focus more on pimps and johns. Closing down the leading Web site used by traffickers would complicate their lives, and after so many years of girls being trafficked on this site, it's time to hold owners accountable.
What can you do right now on this issue?
» Sign the Change.org Petition.
» Check out the Groundswell campaign.
» Shared Hope International is calling on mayors to stand against child sex trafficking.
» Write or call the President, your Senators, and your Representatives.
» Write your governor or state representatives.