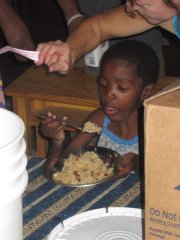 Madam Jeanne Bernard Pierre, Director of Haiti's IBESR, was fired today. Just one week ago, the IBESR ordered the closure of the Son of God Orphanage for child neglect after receiving complaints from six U.S. organizations. Donations provided to the orphanage were sold or siphoned into the pockets of the directors, while the children were neglected to the point of starvation. (The IBESR is the government agency in charge of orphans, orphanages, child welfare, adoptions, and other related issues).
Make a Donation to Help the Son of God Orphans.
Without your action and voice, this would not be possible. I cannot tell you how encouraging this news is to us, and how rare it is to see it happen so quickly. Here is the petition, please sign if you haven't yet.
After the closure of the orphanage, dozens of children remained missing. We continued the call for a deeper investigation of the IBESR and demanded immediate action on behalf of those children who are still missing.
As a result, the IBESR director, Madam Jeanne Bernard Pierre, was fired today.
We welcome today's news of Mdm. Pierre's removal, and support the Haitian government, President Michel Martelly, and First Lady Sophia Martelly as they continue to seek justice for all of Haiti's orphans.
This action would not have been possible without the coordinated efforts and voices of thousands of individuals across the world. Over the last two weeks, two different Change.org petitions garnered over 12,000 signatures asking President Martelly to intervene on behalf of the children.
We will continue to press for a full investigation, a search for the missing children, and the relocation of the Son of God orphans to a new private facility established by our partners.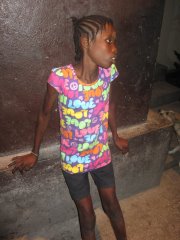 This is where you can help, by making a gift to help the Son of God orphans right now.

Many of our supporters and petition signers have asked what more they can do. "These kids have been through so much, and we saw the emotional and physical impact this situation has had on all of these kids," said Tiffany Cherry of Timberline Church's Orphan Care Ministry. Cherry recently returned from Haiti after spending much of the past week working with the children who had been relocated.
Right now it is our goal to raise the funds by every child their own bed, medical care, education, emotional counseling, meals, and new clothing.
With your help, we can do all of that.
"Katia's House" is a fund established to provide for the needs of the Son of God orphans over the coming months and years. This fund was established prior to the closure of Son of God, in anticipation of needing a way to fund the ongoing needs of the chidlren.
Please consider making a donation to help the Son of God orphans.
Here are some of the ways you can help:
$150 will purchase a bunk bed with 2 mattresses
$90 provides a year's worth of school fees
$75 covers immediate medical care, IV fluids, and medicine
$25 will provide one week of meals for a child
Larger donations will help cover the long-term costs such as education, psychological treatment, and the opening of "Katia's House" where we can provide direct residential care to the children.
Click to make an online donation to Katia's House.
Click to sign the petition calling for a wider investigation of orphan abuses in Haiti.