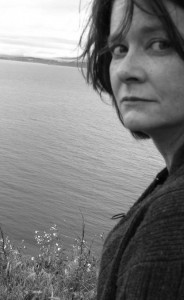 I have hit a poetry phase in my life in the last few months. I have been discovering many poets who are challenging me and inspiring me in a way other work is not. Certainly one of them is Anne Doe Overstreet. I think Anne – who is married to that other Overstreet I have recently promoted here on blog – certainly is in running for the best title of a book this year. Then there's the fact that her attention to detail, her choice of detail, and how that puts her in an elite – but accessible- class of emerging poets.
Here is a sample poem from her debut collection of poetry "Delicate Machinery Suspended."
Surviving the Open Heart

The hotel fan's one long drawn exhalation
disturbing the heat that has settled like dust
across the room, the square-cornered chair
the unsteady spool of table. You are broken
into pieces and lie scattered—shoes, unzipped
purse bought cheap for traveling, a scrap of paper
bearing numbers for Hampton Inn, St. Joseph's Hospital
and a sister in Texas. You have brought what you saw fit
to wear, changeable from grief to joy, comfortable white
sandals with arch support for the long waiting, the cotton
knit sweater that draws your husband's eyes to your breasts.
Later you will slip beneath the water of the hotel pool
into a silence almost as blue as the heart when it stops;
you will practice floating between breaths,
touch two fingers to the place on your abdomen
where tubes left red caves beneath your father's
breastbone and try to imagine how the skin
can keep back what belongs in the dark.
Your heart is self-conscious now, listening for its
own name in the waves of pulse and breath;
the body curling around it, fascinated by the
unthinkable cut, the parting of red wall upon blue,
the delicate machinery suspended.