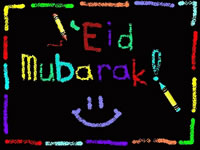 Now that Ramadan is slowly drawing to a close, take a few moments to think about the ones not fasting — the little ones who sneak a date from the iftar table at sunset while everyone is frantically getting ready to eat, the ones who are usually asleep in the morning while the adults wake up to eat their pre-dawn meal and pray, the ones that unintentionally taunt the fasting grownups with ice cream cones and juice drinks. That's right – what about the children?
For much of the month, children are merely bystanders, exempt from the fasting until they reach puberty and, perhaps, many of the optional prayers (though they are encouraged to learn). But kids are kids, they see how religious festivals and holidays in other religions often emphasize the "fun stuff" – the Christmas trees and presents, the Hanukkah dreidels and songs, the colorful dances of Holi.
But Ramadan does have its share of "fun stuff" too, centered around the 3 day holiday of Eid, expected in a few days time. Eid in a predominantly Muslim country is as colorful and vibrant as the Christmas season is here in America. Over here, we're still working on ways to create a similar atmosphere for Muslim Americans and their children — and we're not quite there yet.

My childhood Ramadans were filled with anticipation for Eid gifts — usually small sums of money (called eidee in some Muslim cultures), but also clothes and toys — that were distributed after the special prayers formally marking the end of Ramadan. All the large mosques in our area used to have (and still have) Eid festivals, complete with balloons, game booths, rides, cotton candy — in short, everything you'd expect at a typical American carnival. And while the children might not appreciate it, Muslim parents delight in dressing up their children in their finest clothes (Muslims are encouraged to wear their "Sunday best" on Eid).
As the Muslim community matures here in America, we have our own unique ways of getting children involved with the month. One of them are Ramadan children's songs – my kids especially like those of Lisa Abdelsalam, a Philadelphia mother who wanted her children to enjoy a Muslim analog to Christmas carols. Earlier this month, I recorded my own Ramadan song (MP3 file here), a takeoff of the old charity song "Do They Know It's Christmas" which I used to play on guitar at Muslim summer camps back in the 1990's. My two sons (5 and 2) have spent the past week singing it all day — in the car, at school, at home — and I'm glad to see a happiness and appreciation in their faces that will hopefully create strong childhood memories for them.