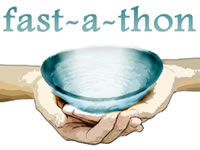 I've often struggled with the question of how best to share my faith with those who are not Muslim. While I have spent many years being involved in interfaith work, there was something about it that seemed at arms-length or academic. I believe that educating people about Islam and Muslims requires a more nuanced approach than lectures or brochures. But I also feel that it is important to bring some tangible benefit to the community at large.
One of my personal goals is that I want to help create an society where Americans feel that this country is better off having Muslims here than not. Right now, it's hard to get over the impression that Muslim Americans are a net liability. But how do we get to that promised land?
As with many innovative ideas coming out of the Muslim American community, one great answer has come from young Muslims. In 2002, Muslim students at the University of Tennesee, Knoxville came up with a unique way to share the meaning of Ramadan with their non-Muslim peers and raise money for local homeless charities. The idea was to have people sign up to fast for a day, and for local businesses to sponsor them at $1 for each person fasting.

The result is known as the fast-a-thon, and it has since grown to involve more than 300 campuses across North America, with additional campuses in Europe spreading the idea there. This year, it was held on Wednesday, October 3, and hundreds participated on each campus (there were 3,000 participants at UT Austin alone).
Even if you assume an average of 250 participants per campus, that means 75,000 people fasted on Wednesday, and with $1 buying food for 5 people, 375,000 were fed through the efforts of Muslims and others coming together to fast for the homeless here in America. It has even been adopted by some Christians as a reminder of the sacrifices made by Jesus, someone Muslims also revere.
What could have been an insular practice–fasting for Ramadan–has now become something enriching for all–an indigenous Muslim contribution to America that adapts American culture with an Islamic sensibility.
I hope that this kind of creative thinking grows beyond the campus and spreads to the community at large, so that we can achieve my somewhat ambitious goal within my lifetime.